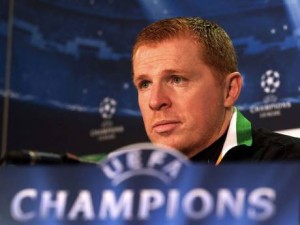 By Lachie Mor
I imagine that am not alone today having spent much of my time reflecting on and discussing the end to our European adventure with friends and family.
I have read several newspaper accounts, visited Kerrydale St. and watched the news throughout the day. In the last hour I made the mistake of tuning in to Sportsound to hear tonight's pundits pick over the bones of what has been admittedly a disappointing European campaign.  I say 'mistake' because one thing I have learned not to expect from anyone in the Scottish media is any degree of insight about the game in general or Celtic in particular and tonight was no exception.
Last night's performance was pitiful in parts but to my mind any analysis of what went wrong has to include more than the 'big players out – lesser players in' scenario which was the template for discussion on the BBC radio flagship programme.
There is a concerted attempt by elements in the media to portray Neil Lennon as a manager who was hamstrung by the parsimonious attitudes of the Board and notably Peter Lawwell. The accepted wisdom seems to suggest that the manager was forced to sell his 'best' players by a chief executive intent on pursuing the 'buy cheap-sell high' policies that some folk think underpins the approach outlined in 'Moneyball'.
I would not be completely surprised if the manager in his private moments is happy to encourage this belief amongst those in the press who have his ear – perhaps from a political perspective but maybe just to make him less open to criticism when things go awry – like in the last two games.
Let us start with an examination of what went on in the summer. The three players who left were determined to do so and it was incumbent on the chief executive to get as high a price for them as possible – this he did and was commended by many in our community for his acumen.  That none of these players have set the heather on fire in their new environments is not insignificant in my view.
Having filled our coffers the next task was to replace these players with as good or perhaps even better players if possible, or at worst with players who have potential for improvement over time.  That we were forced into a European campaign at a time when any sensible person was cruising in the Kyles or chasing a small white ball around the links, was however a complication that we could well have done without and the club is to be commended for surviving the qualifying experience and getting through to the Champions League Group stages.
In terms of personnel we recruited  Amido Balde, Timmu Pikku, Virgil Van Dyke, Nil Biton, Stephen Mouyokolo and Dirk Boerrigtor – all with a view to being involved in the first team, while letting Mo Bangura and Tony Watt go out on loan.  That Mo came back and gave our defenders a most uncomfortable experience in the CL qualifiers had a touch of farce about it – but we did survive.
I would like to consider the comings and goings.  When we signed Gary Hooper he was largely unknown outwith folk who follow the lower English leagues. He was a 'project' in the eyes of many – to quote our own Harry Brady he was a frog who turned into a prince. That Balde had already been recruited before he left, and was seen as an alternative rather than a replacement, meant that in real terms his place was filled by Timmu Pikku. It would be silly to suggest that the Finnish striker has set the heather on fire, but he is an international and was playing for a top 4 Bundesliga club so his CV was rather more impressive than that of the player who left when they joined Celtic.
Victor at times was a Colossus – player who seemed to have a bright future in the game and who clearly saw Celtic as a stepping stone to the big leagues and the big money which goes with it. There were however times when it seemed as if he thought he was so good that he could coast in the Scottish game, and to my mind while he all the physical and technical attributes of a great player his attitude and his game awareness could be questioned.
Biton has yet to  show what he is made of.  It is too early to pass judgement on him but no one can deny that the eccentricities of the Captain against Barcelona and the callow challenge which the young Israeli made against Ajax meant that Victor's place in the team was not adequately filled last night.
Boerrigter had a champions league pedigree but has done nothing so far to suggest that he was a good option against the Italians.  For me either Pikku or Stokes in the middle – even Balde – with Samaras out left offered a better prospect for success than the line-up which took the field against Milan.
Had you given me the choice of Virgil over Kelvin Wilson before I had even seen him play I would have taken a punt on him.  Wilson was an over-rated player who had shown no great capacity for improvement and his mauling at the hands of the afore-mentioned Mo in the qualifiers confirmed everything I thought about him.
After a shaky start I think Virgil has already shown that he is player with a future.  Mouyokolo is a player who seems ill-fated and his signing cannot be assessed at this juncture.
The point I am driving at is that while there has been much hand wringing and wise after the event talk about our failure to recruit adequate replacements this is based on performance, not on how these players were assessed before they were signed.  None of them were illogical with the possible exception of Dirk – why we need another left sided mid-field player remains a mystery to me and his acquisition meant that Samaras was moved from the berth where he has shown his best form in a Celtic shirt.
As a result of injuries and suspensions the squad was paper thin in terms of their capacity to compete at the highest level of the game and they were found out last night.  Their cause however was not helped by the bizarre team selection for which the manager is wholly responsible.
There were four outfield players at the start last night whose ability to kick the ball with their right foot is at best limited – four out of ten – and another was added when Joe Ledley replaced Kayal.  This meant that the team was unbalanced before a ball was kicked and that at least two – Kris Commons and Charlie Mulgrew – were forced into positions where they were never really comfortable against players of the calibre of Milan. Later in the game Commons was subbed by Stokes but before the end Forrest departed to be replaced by – yes you've guessed – another lefty – Tom Rogic.
Given the personnel available to him It might have made greater sense to play Darnell Fisher at right back and moved Mikael Lustig into the mid-field or to play him at the back and release Efe, who was, as it turned out along with Emilio, the most enterprising Celtic player on the pitch.
Last night was simply a result in waiting – they have not played well for weeks.  I suggested in the podcast last season that they were less than the sum of their parts and hold to the same position this year.  We have a number of good players but not necessarily a good team.
The league offers an opportunity to blood players who have talent but who are being held back by a lack of game time, but the manager seems to have his mentor's attitude (by that I mean the Blessed Martin) that  there are players he trusts and while he may allow fringe guys the odd appearance, if they don't star they won't be seen again for some time. This a negative approach and holds back young and emerging talent.   What is the point in a Youth Academy which produces half of the international age group sides, but who never get a chance to prove themselves on a bigger stage.
In recent weeks the world of Scottish football has been agog with the exploits of the young talents at Dundee Utd and rightly so, but when these lads played against Celtic's youth teams at their age group they were not at the races – the difference is that they have been given a chance and the manager has shown faith in them.  For years I have watched other Scottish teams acquire Celtic youth players who, while they may not have been stars, were competent pro's and assets to their teams. But there is a point in any player's development where promotion to the first team, good coaching and encouragement offer a platform to stardom.  If a club fails to offer this, many players become disillusioned and never fulfil their potential.
We have a chance between now and the end of the season to assess the talent at our disposal and – like Ajax – discover if in our own ranks there may be players of Champions League potential.  I hope we do not get caught up in the hysteria which seems to surround last night's events where the solution to our problem lies in an open cheque book – that is one ball park we will lose in and we have an example close to hand of where it can lead.