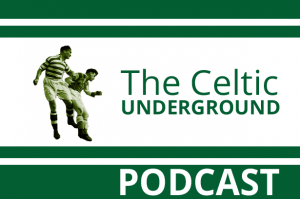 With the midfield such an important part of the team, it was decided that Harry needed two experienced hands to help him discuss the selection challenges and so he has been joined by two well known members of the Celtic Underground selection panel, St Anthony and Lachie Mor.  Straight away St Anthony puts his cards on the table to say Charlie Mulgrew would not get in his midfield, but says it in a nice way!.  The group then discuss the pros and cons of many and agree that they would prefer to see as many flair payers as possible in a Celtic CL XI.
In discussing the flair, Harry once again visits his Aiden McGeady arguments.  This time he is pleased to note that others have come to that particular party…
Podcast 200 (c) is part of a series of podcasts hoping to arrive at the best eleven players to have donned the hoops in Champions League Group stages or last 16.  To have your say, email Harrybradycu@gmail.com.  Tweet to @Harrybradycu or leave a comment on the site.
Soundcloud –  HERE
iTunes – HERE
Also Try HERE
This weeks contributors are all on twitter;
@Harrybradycu
@LachieMor
@stephen62572390