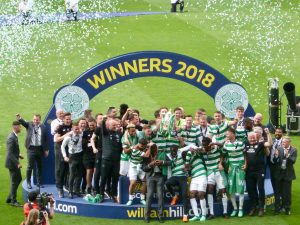 The season is over but the talking never stops and of course how can we not stop talking about a double treble season? In order to fill the void of the summer we have the special guests, season reviews and player ratings to go through and so first up is the Celtic Underground End of Season Review and with such a season we need all hands on deck to discuss it and so joining Harry are Mark Cooper, Stephen Wray, St Anthony and Antony Murray.
The bhoys chat starts with the transfer window and we have review of who we signed and whether it was good bad or indifferent. From there we move to the European campaign, reliving both the highs and the lows and the bhoys agree that the positives outstrip the negatives and that sometimes we have to be realistic about our position in modern football and from there we review the domestic season.
We round off with your questions and then a chat about what unique thing we'll achieve next season.
After this podcast we will have the Celtic Underground Top Ten and voting has now opened and you can submit your vote by emailing podcasts@Celticunderground.net
Enjoy…
iTunes – https://itunes.apple.com/gb/podcast/celticunderground-celtic-football/id305526084?mt=2
Spotify – https://open.spotify.com/show/1DP71JuyXov72ehwiN1hcg
Stitcher – http://www.stitcher.com/podcast/harry-brady/the-celtic-underground?refid=stpr
RSS Feed – http://celticunderground.libsyn.com/rss
Audioboom – https://audioboom.com/channel/celticunderground
Spreaker – https://www.spreaker.com/user/harrybradycu
YouTube – https://www.youtube.com/user/HarryBradyCU
TuneIn – https://beta.tunein.com/radio/The-Celtic-Underground-p1012979/
Player FM – https://player.fm/series/celticundergroundthe-celtic-football-fan-podcast
Soundcloud – https://soundcloud.com/harrybradycu-2/the-2017-18-end-of-season