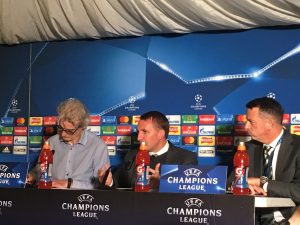 Tonight (as we record this) Celtic were on the receiving end of a 5-0 defeat to PSG.  I expected to lose so I'm not too down because I believed that this group would always come down to the head to heads between ourselves and Anderlecht for European football after Christmas.
Mark & I therefore discuss the game and highlight our flaws, but hopefully in not a too negative way.  Personally my biggest fear is the consequences of the idiot who came onto the park and the hope that this doesn't result in a stand closure or worse.  Here's hoping.
We have two new music tracks for you.  My Green Machine and Ecletic Electric by Bluevale St.
Enjoy…
iTunes – https://itunes.apple.com/gb/podcast/celticunderground-celtic-football/id305526084?mt=2
Stitcher – http://www.stitcher.com/podcast/harry-brady/the-celtic-underground?refid=stpr
RSS Feed – http://celticunderground.libsyn.com/rss
Audioboom – https://audioboom.com/channel/celticunderground
Spreaker – https://www.spreaker.com/user/harrybradycu
YouTube – https://www.youtube.com/user/HarryBradyCU
TuneIn – https://beta.tunein.com/radio/The-Celtic-Underground-p1012979/
Soundcloud – https://soundcloud.com/harrybradycu-2/the-celtic-underground-bans