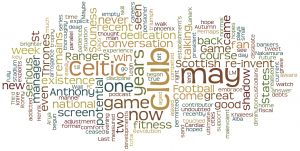 By Lachie Mor
As most of my friends are aware, I had, over the last week to go under the knife to address some serious Heart problems.  Fortunately down to the skill, patience and dedication of the staff at the Cardiac Unit in the Golden Jubilee Hospital in Clydebank I have already started on the route to recovery and all going well will be back to full fitness by the Autumn.
Youngest daughter, the fitness fanatic, jetted in from the States to offer support to us in the next week or two, and during a conversation one evening I mentioned to Mrs LM that I hoped we had taped Game of Thrones.
The news that a Papist pensioner from the Calton was a fan of such a raunchy and violent TV show came as a shock to my offspring who admitted that she herself had only recently begun to watch the back series in the States and was now thoroughly addicted to the exploits of Tyrion, Arya Stark, Khaleesi and the various characters who inhabit The Wall, Kings Landing and the cities around the Narrow Sea.
She said that she had thought of recommending it but felt it might be too explicit for her aged parents –  under normal circumstances she was probably right – but I had read all of the books, and there is much that is good in how they are being worked out on the small screen.
During our conversation I recalled a tweet from Antony Murray – sometime contributor to this site and past president of the Georgios Samaras Celtic fan club – when he asked what was the difference between Rangers F.C and the Lannisters? The answer of course being, that a Lannister always pays his debts!
Last night when we got home I watched the documentary on Alba on the life of our greatest manager – a worthy effort – and there on the screen was the Prince of Darkness himself – Graham Souness.
To those fans whose Celtic experience began during the years of the so-called 'Souness Revolution' his existence remains a dark shadow which will never fully dissipate.  We now know of course that all that success was based on sand and that when the bankers came calling, the till was empty at a club whose real existence is measured in the same terms as Third Lanark, Renton, Vale of Leven and St. Bernard's as teams who once competed at the highest level of our national game.
Their period at the top may have been longer and more trophy laden than these other once weres but their actual state is a direct parallel- they ceased to exist, and it is to the everlasting shame of the administrators of our national game that the phoenix club which now plays out of their former stadium was so easily accommodated, despite their misdeeds and the overweening ambition which brought Rangers FC to the grave.
Harry Brady and St Anthony touched on this in their most recent podcast when they considered that no-one is willing to lend money to any Scottish Football club having seen the cavalier manner in which the establishment's darlings were permitted – encouraged even – to walk away from their fiscal responsibilities and re-invent themselves with no diminution in their arrogance and self conceit. Like the White Walkers, they may be dead, but they cast a huge and malevolent shadow which will haunt our game for years to come. It is some comfort that the true follow followers who embrace Sevco seem intent on doing to the new club what the custodians did to the old.
Despite this, as a great believer in the ultimate triumph of the Light over the Dark, I see recent developments at Celtic park as pointing to an even brighter future for our club in coming years. I  have great hopes for the new coach, and with one or two additions we may in time have a Celtic team to be proud of.  Some players may be allowed to re-invent themselves as Celts while other may pursue their careers elsewhere – that remains to be seen, but what really pleases me is that he appears to be a good man manager who believes in discipline and hard work.
I never subscribed to Neil Lennon's theory that 'we all have a bit of baggage'.  No we don't – my preference is for a Henrik Larsson or a Nakamura over an Anthony Stokes,a Tony Watt or a Leigh Griffiths any day, and I am not simply talking about their respective footballing abilities.  I am talking about their total dedication to being the best they could be. Maybe our current tyros have it in them to fulfil their undoubted potential, but that will require a serious attitude adjustment for it to be realised.
Perhaps Ronny Deila will provide the key to unlocking that potential – we can but hope. It will be a win – win situation should it come to pass.
What is unarguable, is that in the Game of Thrones that was Scottish Football, in the end, there was only one winner.
@Lachiemor1