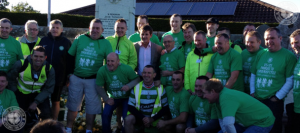 Below is a shameless plug for a Celtic FC Foundation event in relation to the annual pilgrimage to John Thomson's grave.
Fancy getting fit, having fun and doing a bit to help a great charity?
The Celtic FC Foundation Supporters Committee are organising a charity cycle to John Thomson's hometown of Cardenden on Saturday 6th September.
The route from Celtic Park to Fife is fairly flat with only small inclines near the start and end of route so with a bit of training over the next six weeks the 64 mile route should be realistic.
You will be sure to have an enjoyable day meeting fellow supporters, all of whom will be fundraising to help Celtic FC Foundation raise much needed funds to help with their work promoting health, equality, learning and poverty through projects on our doorstop in Glasgow as well as projects further afield in Scotland, Ireland and the rest of the world.
To play your part and get involved or for more information on this event :