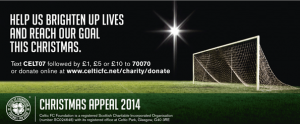 Lachie Mor is back in the house and Harry & Lachie discuss the ghost of Celtic Past, Presnet & Future and conclude that it's always good to support the hoops.
The bhoys discuss the recent performances where a total of 20 goals could have been scored against Motherwell & St Mirren (but weren't).
At almost the halfway stage Harry tried to get Lachie's best Celtic 11 for this crop and they also discuss the upcoming visit of Inter from Milan. Oh and they also wonder what the heck is going on at Ibrox…then decide who knows and who cares.
Merry Christmas and God Bless Us All.
Celtic Foundation Work – http://charity.celticfc.net/
Get it from the usual places;
https://itunes.apple.com/gb/podcast/celticunderground-celtic-football/id305526084?mt=2
http://celticunderground.libsyn.com/