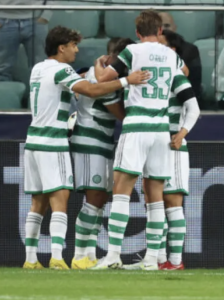 We're in the mix
Tonight, before recording this podcast, I was in a whatsapp debate about how to describe the draw with Shaktar.  I described it as brilliant, others said disappointing.
Personally I couldn't see how you could describe an away UCL prefromance wehere we should and could have won by 2-4 goals as disappointing.  Yes, there's disappointment that we didn't win but surely it's absolutely brilliant that we were that good that we feel disappointed about only drawing away?
Anyway, enough of the use of the word disappointment in one small section of text – I am joined by Antony Murray as we discuss the draw with Shaktar, the away game to St Mirren and I also debut my open all mics try-out as Napoli get 2 pens as we record.
Enjoy…
iTunes – https://itunes.apple.com/gb/podcast/celticunderground-celtic-football/id305526084?mt=2
Spotify – https://open.spotify.com/show/1DP71JuyXov72ehwiN1hcg
Stitcher – http://www.stitcher.com/podcast/harry-brady/the-celtic-underground?refid=stpr
RSS Feed – http://celticunderground.libsyn.com/rss
Audioboom – https://audioboom.com/channel/celticunderground
Spreaker – https://www.spreaker.com/user/harrybradycu
YouTube – https://www.youtube.com/user/HarryBradyCU
TuneIn – https://beta.tunein.com/radio/The-Celtic-Underground-p1012979/
Player FM – https://player.fm/series/celticundergroundthe-celtic-football-fan-podcast