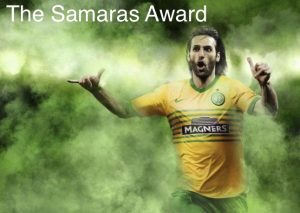 Votes are now coming in thick and fast for the world famous Celtic Underground Top Ten – the annual vote to catalogue the best Celts of the season.  Unlike boring old voting systems of the players and press, we don't just reward the best guy or the best young guy, we provide a full run down of the top 10 players for posterity.  Some seasons are harder than others, for example last term some people only submitted a top 3 or a top 5 with the argument that the rest were equally bad!  This season the challenge comes from the issue of only having 10 and exactly what order to put them in as they were all stars worthy of the hoops.
Regular readers of the site will know that over the years the voting panel had a fondness for the Greek God Georgious Samaras.  Sammy may have left but his legacy lives on.  This season, in addition to opening the vote out to all listeners and readers of the site we have also introduced the Samaras Award – it's the award for the moment that in years to come you'll recall when discussing this season and I am delighted that so many different votes have been coming in for different moments (e.g.) Lustig wearing a beach ball, Lustig dancing in the gym and Lustig's 5th at Ibrox.  We also have the rogic Cup Final winner, the Dembele overhead v Man City, the Roberst winner v Man City and the Gordon save in Israel.  We've also had votes for non player moments like the final whistle in Israel, the arrival of Brendan and the Rangers TV commentaries "Poor Touch by Dembele" being just a few.
There's still time to get your Top Ten vote in (you have until 5pm on 9th June) and also your Samaras Award vote.  Thereafter we will have our podcast panel convened to discuss and reveal the votes and if you match them perfectly you win a mention and the ability to be really really smug!