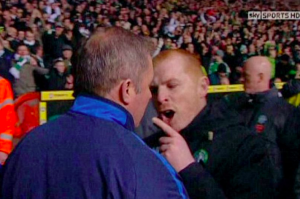 The Game Episode 1 – Shame Game
10 years ago this month was The Shame Game.  A silly title for a game that saw no shame apart from the terrible behaviour of the soon to be defunct Rangers players and assistant manager.  But with its notoriety and coming to the fore we thought  we'd kick off the new series with a review of that game.
Here's how the Celtic Wiki describes it:
As one-side a match against the Huns you'll ever see. Celtic were on top throughout this game, and despite the Huns being able to break well at points, they were simply playing for penalties from early on. With injuries/resting players like Lafferty & Jelavic, the Huns were relying on some rough tactics with heavy tackling on the menu. Luckily, Celtic's pressing on fairer referees has paid off with Murray officiating well and taking to half measures. He allowed around 20-25 mins before dishing out yellow cards, and Whittaker was first to be ordered off with two yellows. Harsh the first card may have been but it wasn't for that challenged alone (he had committed a few bad tackles before hand).
From then on, Celtic took control (in particular in the midfield) however we weren't makign enough of our advantages. Wilson was exceptional and has been on a bit of a goal glut of late (3 goals in 6 games) and he scored with his second chance today just after half-time to send the support into raptures. From then in, there was only one team in it. Rangers had a late burst but their runs were cut short….. and Rangers were out the cup!!!
YESSSSS!!!!!!!!!!!!!!
More important is the rammies that occurred. Diouf was in everyone's' face, with match offs with Brown and then inexcusably with the Celtic bench. He should have been sent off early but the referee was too soft. Next there was a rammy with Mjallby for Djouf in the tunnel at half-time! It was comical.
The unbookable Bhougeira was sent off! Amazing! Daft tackles were the cause, he's scum like Diouf.
Diouf was sent off after the final whistle for not keeping control of his senses (not possible for him). A farce and scumbag.
The home support were in his face and we all laughed. The worse he is on the pitch, the worse his antics are…
Match ended with a spat between Lennon & Ally McCoist (Hun assistant manager). McCoist approaced Lennon in our dugout, Lennon politley held out his hand, then McCoist whispered something in his ear, Lennon retorted, then it blew with some shoves and people jumping in to separate the two. McCoist should be hammered for it.
Anyhow, we won, it's great to be a Celtic.
Crazy: The match has been criticised by the First Minister as a disgrace with head police officer calling for possibly stopping all games v Rangers or play them behind close doors! Absolute joke, total mock outrage.
Enjoy…
Pick it up from all your favourite podcast places:
iTunes – https://itunes.apple.com/gb/podcast/celticunderground-celtic-football/id305526084?mt=2
Spotify – https://open.spotify.com/show/1DP71JuyXov72ehwiN1hcg
Stitcher – http://www.stitcher.com/podcast/harry-brady/the-celtic-underground?refid=stpr
RSS Feed – http://celticunderground.libsyn.com/rss
Audioboom – https://audioboom.com/channel/celticunderground
Spreaker – https://www.spreaker.com/user/harrybradycu
YouTube – https://www.youtube.com/user/HarryBradyCU
TuneIn – https://beta.tunein.com/radio/The-Celtic-Underground-p1012979/
Player FM – https://player.fm/series/celticundergroundthe-celtic-football-fan-podcast