The main reason this game remains memorable in the minds of Celtic fans is that it was the great Billy McNeill's last game in Celtic colours. I
was at the game that day and afterwards there was a rumour that he had quit although there was nothing official, apparently the players being
the only ones in the know after Jock Stein informed them in a pre match team talk.
That night there was a family get together in my home which turned into a celebration given the occasion that day. As the men
hurried back from the pub to watch the highlights later on, Archie McPherson officially announced that big Billy had actually called it a
day and if I recall rightly there was a post match interview in which he explained the reasons behind this. For myself, at nine years old, I
could only remember one captain of Celtic and to all intents and purposes it seemed on occasions that Billy McNeill was Celtic such was
the awe we youngsters had of him.
As for my Dad's generation I can only wonder what went through their minds that night. They probably felt emotional as they recalled the glory days of 1965-75. These men were the Celtic foot soldiers who had followed them faithfully during the difficult pre-1965 period and had now been rewarded royally in the past ten years. Inter, Leeds, Benfica, Red Star, St Ettiene and Fiorentina had all been put to the sword on memorable European nights and a plethora of Old Firm wins together with twenty four major trophies meant they had witnessed one of the most spectacular and successful eras in European football which McNeill himself had started with the winning cup final goal against Dunfermline in 1965.
Very often an image will remain stamped in your mind and you will never forget it whether you have seen it in person, witnessed it in film or
read it in a book. No Celtic fan will ever forget the vision of Billy holding THAT trophy high in the Lisbon air surrounded by the most
unique stadium surrounding ever for a Euro final, an almost Romanesque amphitheatre and no emperor had ever stood more victorious or imperious after victory in battle as Celtic's Caesar on that balmy May night in 1967. Hard to believe that the Huns had taunted us in the early 60's by branding the inept Celtic team of the period as 'Billy McNeill and the Easy Beats.' Jock Stein was to ensure that there would be no more ridicule after 1965.
In recent years Billy McNeill has gone on record to suggest that he retired too early and had a few years left in him. Times were changing
however and this was the season Celtic failed to reach the magical 10 in a row milestone. My recollection of that period is that the new
breed of Scottish striker was beginning to trouble him such as Derek Parlane, Willie Pettigrew and Andy Gray, all of which a few years
earlier the big man would have brushed aside with few problems. It was only right and fitting that the great 'Caesar' went out on a high and
this game was a fitting end to a wonderful career as Celtic's captain and leader.
The first image is from Shoot magazine from May 1975 and shows some of the highlights from the game.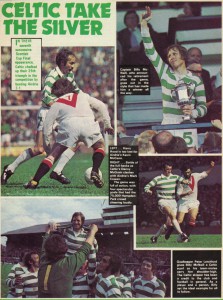 The second photo shows Pat McCluskey scoring Celtic's third goal from the penalty spot and you can see from it that I was fortunate enough to
meet Pat in recent years and he was kind enough to sign this picture. I was nine years old and stood in the Celtic end that day and could see
very little at the time of the penalty. My Dad hoisted me on his shoulders to see the penalty, the final whistle which came minutes
later and the cup presentation itself. As I was on his shoulders I was able to have a magnificent panoramic view of the Celtic support with
scarves aloft in a fine rendition of 'You'll Never Walk Alone.' It is experiences like this that have stayed with me and inspired me to
follow Celtic fanatically, home and away, in later life. I do have to say that I now have a ten year old boy who weighs a great deal, so for my Dad to keep me up for a long period when I was nine deserves great credit. Respect is due.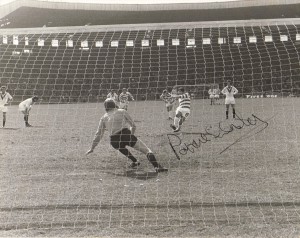 The third image shows Paul Wilson scoring his second goal.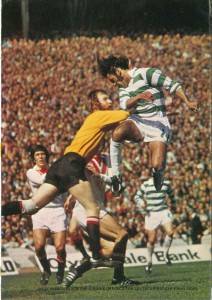 The fourth image sees big Billy hoisted high above the Celtic players and the colourful mass of the Celtic fans behind the goal. You can see
from these pictures that the Celtic team was in transition. There was no more Jinky, Brogie, Wispy and Yogi but they were replaced by the new
breed of Latchford, Lynch, Glavin and Wilson, who can be seen in these pictures celebrating their first winner's medal as Celtic players.
However that day will always be remembered as Billy McNeill's last hurrah as a Celt. And we all know how the old song goes – 'There's Only
One King Billy – That's McNeill!'