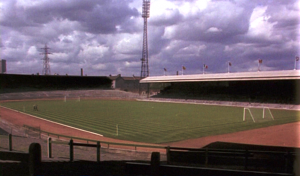 It passed without much comment, much fanfare but last week saw quite an anniversary in Scottish football. It was the 40th anniversary of a top league of 10. The anniversary of teams playing each other 4 times. The anniversary of the death of our game?
By the early 1970's there was a clear and identifiable problem in Scottish football – year on year attendances were falling. Falling universally at all clubs. Celtic were winning the league every season and people were board. What they were especially bored with, the logic went, was the elite sides (who were, don't forget, also the elite sides of Europe) thumping diddy clubs or meaningless fixtures for the bulk of the league after an East Fife, Arbroath or Cowdenbeath were cut adrift at the bottom and Celtic and Rangers fought out the top two slots. The argument went that fans would come back to see the top sides play each other more regularly. These fixtures would be more competitive and the public would enjoy their football more. Season 1975/76 therefore saw the first 10 team top league. Attendances didn't change, but the format was set and, with tweaks here and there, we've had it ever since. But has it ruined our game?
In the 15 years prior to the formation of the top ten, our club sides were regularly reaching European finals and semi finals. Apart from Celtic's two European Cup Finals and Semi Finals, there was Rangers, Dundee in European Cup and Fairs Cup semi's, Hibs in 3 European Quarter Finals and Dunfermline in a Cup Winners Cup Semi Final. Within 10 years of the formation of an elite top league of ten our clubs stopped attaining European success regularly and it is now 30 years since a team other than Celtic or the Old Rangers has won the top flight.
At international level the regular attendance at major tournaments has dried up, with it now looking likely that Scotland will have gone 20 years since qualifying for a major tournament.
But is all of that the fault of a top 10 (and sometimes 12)?
It's easy for a mid 40's supporter who started attending regularly in that first elite league season to look back and suggest we return to an era I don't remember, but for me the above stats tell us something. As the last generation of players playing twice a season left our game the quality dropped. A tight top league (and don't forget for a good part of those last 40 years that small league had 20% relegation levels) breeds don't lose, no risk football. It also breeds familiarity. I recall Ray Wilkins saying that whilst he loved his time in Scotland, 2 years here was like 4 elsewhere and by the time he left Rangers, he was so familiar with Paul McStay's style of play he knew his inside leg measurement.
During those last 40 years, the period of hiatus in standards when Celtic (and old Rangers) reached European finals coincided with Celtic reaching maximum debt and Rangers relying on illegal tax scams to afford the quality foreign stars. Unlike the 70's, the noughties period of club success coincided with the national teams' lowest point – because the big two bought in the talent.
A small top league breeds football of fear and must not lose. It lends against trialing youngsters and has done nothing for our game, it didn't even result in the change in attendance figures it was supposed to bring (by the early 80's Celtic's average attendances were below 20,000)
Over the last 40 years we have tweaked the elite top league concept, but the results have been the same. Celtic (and old Rangers) dominance, a poor national side that cannot qualify for tournaments and attendances which rarely change. EVERYTHING has been tried except…returning to an expanded top flight of 18.
Regular polling suggests an expanded top league of 16 or 18 is what the fans want. The elite top league has not brought the changes off the park and on it…it may well have been the 10 that killed the Scottish game.