A few years back I had an idea in mind to write a book which commemorated that great night in May 1979, when Celtic beat Rangers 4-2 with 10 men, to win the SPL title in their last league game.
Through the years this game has become the stuff of Celtic legend, mainly due to the fact that the game was not televised on the night, although black and white cine film remains which was taken at the time by the volunteers of the Celtic film club.
These last two years have saw me work on my project, which has been tremendous fun researching and meeting some of my old idols. If this book is worthwhile in one respect then it is the recollections from the players and fans of the period.
A book launch was held last week within Celtic Park and it was my great honour to have Danny McGrain, Peter Latchford, Joe Filippi and Joanna Doyle in attendance. It was a memorable evening in every way and my only regret was that we had to limit the numbers due to the size of venue.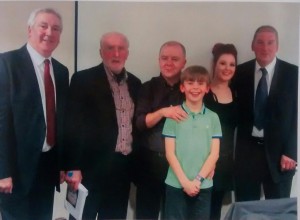 I made the point at the launch that the 4-2 game is no myth. Celtic were 1-0 down when Johnny Doyle was ordered off and fought back to score four times in the most dramatic fashion. Murdo MacLeod's goal is regarded as one of the greatest Celtic goals ever.
In order to put that game in context I have told the story of the season in an easy to read diary form. Obviously the big game gets a chapter all to itself.
If you've never read of the 4-2 game in detail then this is the book for you.
If you have a Dad, Grandad, or Uncle who remembers it, then their Christmas present is sorted !
Note that the book is only available on Amazon:
http://www.amazon.co.uk/Ten-Men-League-Stephen-Murray/dp/1503109747/ref=sr_1_1?s=books&ie=UTF8&qid=1417546541&sr=1-1&keywords=ten+men+won+the+league
Enjoy !