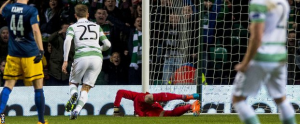 15 Minutes in last night and we were praying that it be no worse than 3-0 by half-time. 25 minutes in and we were making comparisons with PSG; being played off the park by a team exhibiting exactly the style of play our manager wants. 40 minutes and we were pulling ourselves back into the game.
Salzburg were great last night, especially in the first 25 minutes and we have a long way to go, but the greatest journey starts with a single step and I saw quite a few steps last night. The players did not cave in at 2-0, they pulled their socks up and put some pride back into the jersey and after the goal was scored we were the dominant team.
Stats do not tell every story and there is quality as well as quantity but Celtic had;
Celtic
Salzburg
Possession
54%
46%
Pass Completion
72%
67%
Tackle Success
53%
49%
Goals are all that matters in football but the commitment to try and get back into the game along with improved pace last night gave me great heart. Strangely I was also heartened by the team line up. It was the squad we all knew was not good enough for Europe last season. What it confirmed however is the implication from the managers last few comments on the forthcoming January window. From his comments none of the players brought in this summer were his choice and none play his style. He fancies 2 – Guidetti and Denyar. Their enforced absence confirmed Ronny fancies none of the rest with his target being 5 new faces in January. He may not get all 5 but with the 2 above, plus Lustig plus 3 of the managers picks I look forward to the last 32 with hope.
We have qualified for the last 32 not by default, as some commentators said disingenuously last night, but on merit. We have won 2 and drawn 2 out of 5 with 1 more game to go. We are there and deserve to be there.
The team showed courage and desire last night and if we have this supplemented by 5 players (the 3 unavailable plus 2 new) the first steps on the journey may have been in last nights defeat.