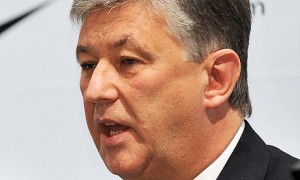 And so after 17 years in the job Peter is leaving.
Peter Lawwell was first employed by Celtic as the club's Financial Controller from 1990 to 1991 under then Chief Executive Terry Cassidy. In September 2003, he returned to Celtic succeeding Ian McLeod as Chief Executive. The job title was changed for Lawwell to Executive Director, Head of Operations as many of the previous Chief Executives had performed poorly in that role.  Arsenal were interested in appointing Lawwell as their chief executive in 2008, but Lawwell rejected their approach.  Lawwell has been credited with increasing revenue, reducing debt and is considered a tough transfer negotiator. He has attracted criticism since 2008, however, as Rangers had won three championships in a row. In particular, Celtic fans cite the club's refusal to increase their offer for steven Fletcher in January 2009, after which Rangers overhauled Celtic to win the 2008/09 SPL. In 2010 it was reported that Lawwell earned a wage of more than £700,000 a year, after receiving a 25% rise from his previous contract for the 2008–09 season.
Everything at Celtic changed in 2012 when Rangers went to the wall and this saw the club commence an incredible period of dominance, winning trophies and building cash in the bank for a rainy day,  We had the Brendan era followed by the appointment of Neil Lennon in the showers and for many, the diasters of the current season were sewn on that day.
Peter leaves and Hullbhoy and I assess his legacy.
Enjoy…
iTunes – https://itunes.apple.com/gb/podcast/celticunderground-celtic-football/id305526084?mt=2
Spotify – https://open.spotify.com/show/1DP71JuyXov72ehwiN1hcg
Stitcher – http://www.stitcher.com/podcast/harry-brady/the-celtic-underground?refid=stpr
RSS Feed – http://celticunderground.libsyn.com/rss
Audioboom – https://audioboom.com/channel/celticunderground
Spreaker – https://www.spreaker.com/user/harrybradycu
YouTube – https://www.youtube.com/user/HarryBradyCU
TuneIn – https://beta.tunein.com/radio/The-Celtic-Underground-p1012979/
Player FM – https://player.fm/series/celticundergroundthe-celtic-football-fan-podcast