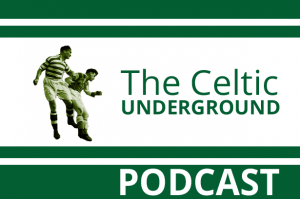 The UK (and most of Europe) lockdown continues but that never stops the Celtic chat.  This week I am joined by someone who I have met many times at post game Celtic press conferences and someone I have been meaning to get on for some time – John Gallagher.
John is a former professional footballer who played and coached at a level below the top flight but far above the standard most of us could only dream of however the main reason I have John on the pod is because John generates the Opta stats at Celtic home games.
In this pod John explains exactly how those stats are created and gives an insight into how that makes you see things a little differently.
I am joined from Bratislava by @antonymurray25 and we quiz John on his time in the lower leagues and his time at Opta.
Enjoy…
Pick up from all your favourite places;
iTunes – https://itunes.apple.com/gb/podcast/celticunderground-celtic-football/id305526084?mt=2
Spotify – https://open.spotify.com/show/1DP71JuyXov72ehwiN1hcg
Stitcher – http://www.stitcher.com/podcast/harry-brady/the-celtic-underground?refid=stpr
RSS Feed – http://celticunderground.libsyn.com/rss
Audioboom – https://audioboom.com/channel/celticunderground
Spreaker – https://www.spreaker.com/user/harrybradycu
YouTube – https://www.youtube.com/user/HarryBradyCU
TuneIn – https://beta.tunein.com/radio/The-Celtic-Underground-p1012979/
Player FM – https://player.fm/series/celticundergroundthe-celtic-football-fan-podcast