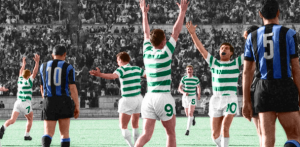 I like to think of myself as a positive person. In my private life I like to dream big…why not? To paraphrase Ronny Deila, aim for mediocrity and that's exactly what you'll achieve. And so onto the mighty Glasgow Celtic.
Last season SOME criticised Ronny for talking about the treble – it's disrespectful, it's tempting fate. Why? Every football club has some of its best attendances at the start of the season because we all have a clean slate and ALL football fans dare to dream, because as a fan it is that dream of unexpected joy, that moment of communal success that makes us attend again and again; the belief that this year your team can get it right. For us at Celtic, with the biggest budget and best team in Scottish football why shouldn't we aspire to win everything? Surely every Celtic squad of players and coaches go into every game planning to win so if you start the season without stating you plan to win the treble, the obvious question is…what games are you planning to lose? And so onto Europe…
2017 is the Golden Anniversary for the greatest night in Celtic's and Scottish Footballs' history. One of the greatest achievements in British football saw a group of guys, representing a club formed by aspiring immigrants, from a wee country on the edge of Europe triumph. The venue has now been set for the final of that trophy fifty years on from that night – The Millennium Stadium Cardiff, and when it was announced my first thought was – Why Not?
Playing in Europe is a challenge. Italian, Spanish and French teams have in the past benefited from 'friendly' refs and bloated Sky fuelled budgets give relegated EPL teams a financial advantage far superior to anything we can achieve, never mind their top 4 CL sides and whilst I know this and many other reasons I can't help asking myself the simple question…Why Not?
Being a football fan is about expectation and occasionally experiencing the joy of the completely unexpected victory so will we have Deila's Dragons? Your head will tell you that. More importantly CAN we have Deila's Dragons?
Why Not!
#DeilasDragons
#DareToDream