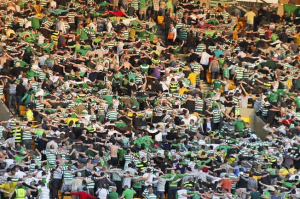 With the recent changes in Scottish football and the emergence of a new, hugely supported, team in the lower leagues there was a lot of talk last year about "world records" and "incredible support."  The numbers attending games of the new Rangers at the old stadium in Ibrox were impressive.  With this realignment of the game in Scotland, people were casting their eye across every club to find the impact of Rangers demise and justification for Armageddon.  People pointed at the empty seats at Celtic Park (especially the Dundee game where circa 25,000 attended).  Indeed the buffoons running the latest incarnation of Rangers sniggered at our "empty seats" – even when our average attendance was better than theirs.
The narrative on all the attendances last season was simple;
Most clubs are pretty much unchanged – but of course miss Rangers
We are down dramatically because we miss Rangers
Ranger's attendance is fantastic, unbelievable, world beating!  Wow, what a support!
But this narrative doesn't sit well with me and indeed an analysis of the scenarios affecting all clubs indicates quite the opposite.  It is Celtic who, this season and last, will have quite the most remarkable attendances in British football.
The other football clubs in Scotland attendances remain pretty much as expected.  Some clubs with more derbies were up and perennial under performers at Easter Road and Pittodrie continued to let the game down.  The new Rangers DID have remarkable attendances but these were fuelled by a misplaced sense of injustice, a consequence of their own self righteous ineptitude and a perception that they were "getting it up" the authorities who'd "kicked them when down."  The fact that their ticket prices were HALF previous SPL levels is also always missed in analysing attendances.  This emotional sense of rebellion is perhaps confirmed by the fact that season book sales at Ibrox are DOWN this term.  But what about us?
Last season Celtic sold just over 40,000 season books.  That was despite our only competitor going bust.  Over 40,000 bought tickets to attend games when we knew that the only ability to have a competitive situation was for us to under perform on a catastrophic scale.  Some may at times have picked what games to miss but we turned up and supported.  And this season?
Well this term season book sales are UP!  We must be the only fans in Europe who start of the season KNOWING we WILL win the country's premier league.  That may sound a wish every football fan would have but really?  Do any sports fans REALLY want to pay hundreds of pounds to watch 20 games KNOWING the eventual outcome – it's like watching a full 90 mins on TV knowing the result.  Could you do that without fast forwarding?  And if you could, could you do it 19 times a season?!
Yes the RFC attendance figures are good but just like us, they KNOW the only way they won't win the league is through an utter disaster of a season.  Like us, their fans have no other thought than the league being won but there is one major difference – our sales are higher, our sales are rising and our club are 125 years +1