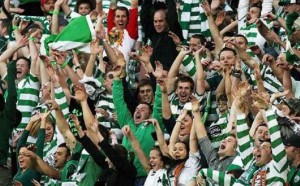 On 16th December the Celtic Supporter Liaison Officer (John Paul Taylor) met with Police Scotland to discuss current issues around policing of football fans and specifically Celtic matches.  Thanks to JP for providing the minutes of the meeting as below;
Police Scotland
Celtic Park, December 16, 2015.
Police Scotland: A Bates, G Christie, P Buchanan            
Celtic: JP Taylor, R Hawthorn, M Nicholson
Supporters: J O'Rourke, J Andrews, K Graham, G McDonnell, T Stephenson
John Paul welcomes everyone to the meeting, explaining the purpose is to highlight concerns that the relationship between Police Scotland and Celtic fans is rapidly deteriorating. It is put forward that we need to understand why this is and how can we re establish trust and build towards developing a more positive relationship.
John Paul goes on to say that there have been issues put forward by the Celtic Supporters Trust which will be picked up during the course of the meeting, it was also acknowledged that the CSA had met previously with Police Scotland relative to some recent incidents including the banner at Hamilton and the Gallowgate incident prior to the match against Ajax.
John Paul then hands the floor to Mr Bates who goes on to state that he understands the frustration and to an extent shares it largely due to an inconsistent approach. It was hoped that the creation of a single force would help create a uniformed approach and that we see consistency across the country, to date this hasn't been the case but that remains the aim.
Joe O'Rourke cites recent issues at Hamilton, Motherwell and St Johnstone as examples of where there is a perception of a Police over reaction. Mr Bates indicates that his view is that the Hamilton incident should not have happened however goes on to point out that the reporting of the St Johnstone incident was incorrect and that the issue escalated, not as the result of removing a banner but as a result of an officer having his hat removed by a flagpole. Most people in the room admitted they were unaware of this.
Tommy Stephenson then went on to state that there is a level of respect for Police Scotland amongst Celtic fans however the recent incident at the Hoops Bar on Gallowgate has created a level of mistrust which will be hard to overcome. Mr Bates went on to explain some of the operational issues which occurred not only on the night of the match but over a two day period where Police Scotland deployed 400 officers on to the streets to prevent rival fans meeting up. Mr Bates acknowledged that the incident was of course regrettable and expressed sympathy for those involved, however once again indicated that his resources were stretched to the limit dealing with incidents in a variety of locations with officers working flat out to prevent disorder on a number of fronts. Once again everyone in the room acknowledged they were unaware of these details.
Tommy then went on to ask why it was necessary to deploy Police Horses and felt this was an archaic manner in which to Police fans in this day and age. Mr Bates explained that horses are very effective in the management of crowd control and apart from the mess they can create Police Scotland seldom receives any complaints about the use of horses. He went to state that in recent years the number of officers deployed at Celtic Park has reduced significantly, this is the ongoing intention, to keep resources to a minimum. Home Clubs now effectively run their own matches however a Police presence is required due to the nature of the event and the numbers involved, the role of Police Scotland is to enforce the law as appropriate.
Gerry McDonnell then went on to ask how Police Scotland thought they were regarded amongst Celtic Fans. Mr Bates stated that he understands the scepticism however he did point out that there are times where there is a lack of understanding by the general public on specific incidents. He highlighted that banners are at the discretion of the home Club and that only in extreme cases will Police Scotland get involved as to whether a banner can be displayed, he again stated that in the case of the Hamilton incident, his view was that should have been managed differently.
John Paul highlighted that the use of Police Horses for crowd control at Motherwell pre match has created problems for fans and for Police Scotland and challenged as to whether there is a better way to manage this procedure. It was agreed that this would be something that could be looked at for our next fixture at Fir Park.
Tommy Stephenson moved on to speak about the forthcoming fixtures at Tynecastle and Dens Park pointing out that these are played during the holiday period and are eagerly anticipated fixtures. Tommy asked if there will be any consideration given to this fact and that we may see a common sense approach adopted by Police Scotland at these matches. It was acknowledged that fans have a role to play and should behave in a responsible manner; however Mr Bates stated that he would be in contact with the Match Commander for each match to make them aware of the meeting and the positive dialogue which has taken place.
John Paul then raised the issue of filming fans, this is a hugely contentious issue and it was asked if this was absolutely necessary. Mr Bates added that filming should only take place when it is believed that a crime is being committed there should be no other reason for fans being filmed. The cameras used are to highlight that filming is taking place so that everyone is aware, there is no covert filming of fans.
Kevin Graham highlighted the inconsistent approach between International matches and Celtic matches. Mr Bates acknowledges this to a point highlighting that resources are an issue, he again cites examples of recent matches where a lot of the good work carried out goes unreported, an example being a recent match where c. 100 pyrotechnics were prevented from being taken into a Stadium as a result of searches. Whilst accepting that these searches are unpopular this is an example of the type of things found and is set out to protect other fans.
Kevin goes on to raise the issue of bus searches and the current legislation relating to two hours before a match. Mr Bates highlights that the legislation relates to travelling to a sporting event and that the two hour rule does not apply when it is clear that a group of supporters travelling on a coach are making their way to an event irrespective of the start time.
Joe O'Rourke then raises the issue of the OBA stating that there is a lack of clarity and that this has confused many fans, Tommy highlights a recent incident at Glasgow Airport which took place seven hours after a match. It was then noted for the minutes that in that particular case it was the Procurator Fiscal who amended the charge to bring it under the OBA and not Police Scotland. Mr Bates went on to state that the legislation is created by Scottish Government; it is the duty of Police Scotland to enforce it. In the case of certain songs, it was highlighted that should a stated case exist, then certain songs would constitute a crime if sung at a football match. In many cases this is no longer subjective, Police Scotland are required to act in such cases. Joe argues who is offended, however Mr Bates again states that when there is a stated case, no one needs to be offended.
Mr Bates went on to add that he understands that some fans feel passionately about this matter however underlined that if fans are aware of the legislation they have to understand that if they sing certain songs they run the risk of arrest as part of the legislation created by Scottish Government.
Overall it was acknowledged by all that everyone has a role to play in trying to re establish a positive relationship between Police Scotland and Celtic fans. This is a community policing issue and whilst we expect Police Scotland to act in a proportionate and fair manner we equally acknowledge that all fans should behave in a responsible manner when attending matches.
It was agreed that a follow up meeting should take place in 3-4 months to review and discuss any progress made. It was considered that the meeting was worthwhile and that everyone has a shared objective to make Celtic matches hassle free for fans who simply want to go along and enjoy the match.
Questions Raised by Celtic Trust
The Fenerbahce incident when the group were stopped on Gallowgate, any background would be helpful
Police Scotland issued the following statement at the time and wished to maintain this position. "The group were stopped by officers as part of an intelligence-led police operation designed to keep safe the vast majority of supporters who want to enjoy the occasion and also to prevent the activities of a small minority intent on carrying out disorder and hate crime.
"Individuals had been identified by specially-trained officers as being part of a group that can be termed 'risk' supporters, who are known to police for previously engaging in disorder or hate crime. Information about potential conflict between this group and a group of Fenerbahce supporters was known by police and attempts were made earlier by an individual thought to be from the same group to provoke the Fenerbahce supporters, who were in the main behaving peacefully, by waving a PKK flag at them.
"Police stopped the group (although they were not 'contained') and obtained footage as a preventative measure, which I am content was a legitimate and proportionate tactic. This type of activity is used to prevent any further disorder from happening in the city or around Celtic Park."
Ajax, are there any plans to pursue fans involved in the attack on the Hoops Bar?
14 men and one woman were identified and reported to the procurator fiscal. All 15 were from the Netherlands and investigations are continuing.