By the middle of April the Pittodrie clash between Celtic and Aberdeen was seen as the title winning clash. The table showed Aberdeen had the advantage and victory in their last home game would virtually guarantee them the title (NB – 34 game season):
Aberdeen        32   24-5-3  67-15   53 points
Celtic               30   23-4-3  78-19   50 points
The game was keenly anticipated and the Pittodrie capacity was set at 35,000 which was lower than usual due to a fire which engulfed the main stand in early February. An estimated 12,000 Celtic fans were travelling North and extra trains were laid on to carry the army of Celts to add to the normal armada of supporters' buses who always follow the Bhoys wherever they play.
The season in question had been Harry Hood's best yet in the hoops. Harry had been at Parkhead three years and never really held down a regular place in the team until now. This was to be Harry's season and he was to finish top scorer and establish himself as Celtic's main striker. This was to be the day that Hood, arguably, scored his most important Celtic goal.
Aberdeen 1-1 Celtic (Glasgow Herald match report)
ROAD NOW OPEN FOR CELTIC TO EQUAL OWN RECORD
Celtic can wrap up the Scottish League Championship package once more. Only careless indulgence in their three remaining matches can prevent them from equalling their own record, dim with time of winning it for the sixth successive season.
Aberdeen, their sole challengers, had to win at Pittodrie in the crucial confrontation on Saturday to retain their mastery of the situation but now they must depend on the Parkhead side throwing away their priceless advantage.
Jock Stein summed it up as thus; 'Aberdeen can only sit and suffer and watch what we do in our last three games.' 
Celtic rarely make major mistakes and although their outstanding opponents – Ayr United, Saint Mirren and Clyde – intend to hotly dispute their advance to the summit and the European Cup once again; the road is open for them to reach the 57 points mark, one ahead of the maximum Aberdeen can achieve with only a game at Falkirk to play.
Neither Mister Stein or Mister Turnbull, his chief protagonist, are claiming victory or conceding defeat yet but I feel the issue was clearly decided at Pittodrie in a match that was a credit to the two leading teams in the country and the 36,000 all ticket capacity attendance. The result in my opinion was right although the respective managers would maintain his side would have won but for sheer bad luck. 
Play resembled a fiery, exciting cup tie on a dry ground. The only marking feature was a tricky, gusty, wind and its idiosyncrasies meant that the tense players had to eye the ball with intense concentration.
Individual skills were often subdued but there were men who tamed the pitch, the wind and the lively ball. Harry Hood and Alex Willoughby, the two scorers, were in a class by themselves.
Hood certainly surpassed all in the Celtic side, even Jimmy Johnstone, from whom was expected the filigree artistry that can bewilder opponents. It was Hood who took the strain off Celtic immediately with a goal from a Johnstone corner kick after three minutes. This imposed extra stress on Aberdeen who had to open out more and thus become more vulnerable.
But the home side accepted the challenge. Willoughby, who until now had been almost a permanent twelfth man, took control of the midfield with Steve Murray. Celtic's Tom Callaghan made a brave attempt to wrest back the initiative, but his partner George Connelly was out of touch and apprehensive about the pitch conditions.
Nevertheless, Aberdeen attacked relentlessly, but Davie Hay, who has added stability in the middle of the Celtic defence where he partners Billy McNeill, kept the tightest checks on Davie Robb and Arthur Graham.
Jim Brogan's accurate tackling on Jim Forrest removed a threat on the right wing. But it was Forrest's cousin, another former Rangers player, Alex Willoughby, who probed subtly, and as his confidence increased so he ventured further into the front line. In 38 minutes Evan Williams blundered badly by failing to hold a cross ball and Steve Murray staked out his pass with great precision for Willoughby to score the equaliser.
Aberdeen found new life, although they had to counter several threatening runs by Jim Craig. When the pressure was on the home defence, Martin Buchan covered magnificently and Henning Boel and Jim Hermiston played with great determination.
But the turning point came in 56 minutes when young Arthur Graham burst through. Williams managed to touch the ball and as the player swept round him he caused the Aberdeen man to hesitate fractionally before shooting at the empty goal. McNeill made the save of the match by blocking the shot after making a tremendous recovery. From that moment Celtic felt that the title belonged to them. 
The match had been sporting and only in the final minutes was there the slightest hint of temper. Joe Harper, who had been substitute for George Buchan – Celtic used their twelfth man, Jimmy Quinn for the injured Hood near the end – was booked by the referee for a foul on goalkeeper Williams.
Aberdeen – Clark Boel Hermiston Murray McMillan M.Buchan Forrest Willoughby Robb Graham G.Buchan – Sub – Harper
Celtic – Williams Hay Brogan Connelly McNeill Hay Johnstone Lennox Wallace Callaghan Hood   –   Sub  – Quinn
And so the record books now show that Harry Hood's goal helped Celtic to six in a row and three weeks later he scored the winning goal in Celtic's Scottish cup victory over Rangers which was just reward for Harry's magnificent season's work.
In later years Hood was to recall the Pittodrie goal in an interview. Never a physical player, he had been urged by Willie Wallace to get in about defenders more and make his presence felt. For the goal he had edged out an Aberdeen defender before scoring and as the Celtic players celebrated Wallace was heard to say; ' See, ah'm glad you've been listening !'
Harry Hood was a great servant to Celtic and a magnificent footballer to go with it.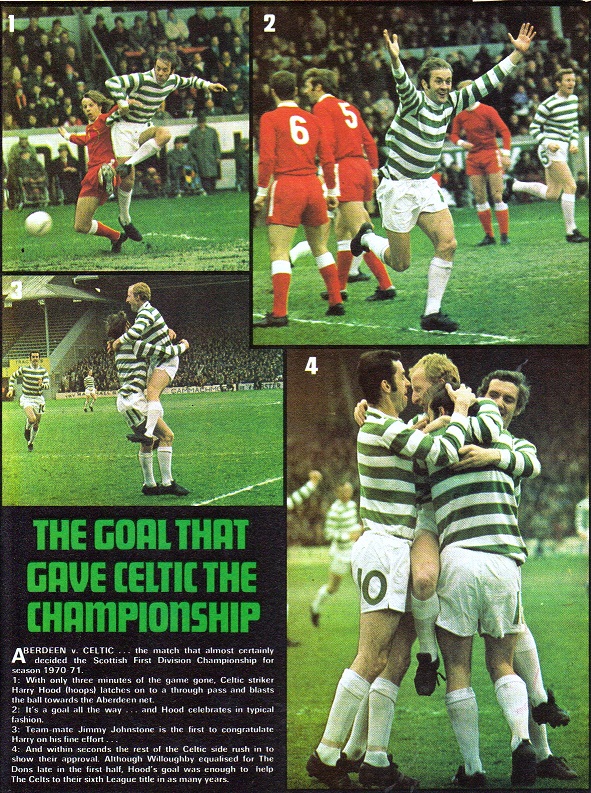 Picture 1 shows the happy Celtic players and fans after Hood's goal.
Picture 2 shows Harry in the process of getting his goal.
Picture 3 is a photo montage of Harry's goal.