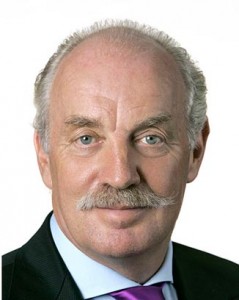 By Critical Bill
If you do happen to read my ramblings on this site over the past couple of years, you'll know that I'm no fan of the Chief Executive and have expressed concern at the underlying foundations of where we are going a s a club.
Such worries manifested itself after the notorious January 2009 Willo Flood transfer window when Peter Lawwell decided to take what I call a "Conservative Gamble."  That is to err on the side of not spending money which we could afford and instead hoping we'd get by on what we had.  That season, and historically in Europe since, those punts have routinely failed and ended up costing far more than any money we were likely to save. 
This season – in fairness to them – at least they did give the manager the necessary resources.  Unfortunately the manager who they placed their faith in was not worthy of such resources.  I'm not going to repeat myself as to why I think that – they're in the previous two articles.  I simply can't see how anybody could make a case for Neil Lennon after early October.
None the less, the way that the board have handled the manager's position has taken me by surprise.  To leave him hanging there when everyone knows he can't turn it around beggars belief.   Even a cynic like me expected a tiny degree of expertise and sensitivity from those running Celtic when it came to dealing with the issue.  It makes the "Old Board" and their decision to keep Billy MacNeill waiting to be sacked because a director was in France with the Youth Team seem professional.
It is not doing Neil Lennon, never mind the team or the supporters any favours by keeping him in the firing line when everyone – not least the opposition we face – know the games up.  It can be one of two things.  Either it is a GIRUY to supporters calling for his head and a stubbornness by the board to be seen to caving to fan pressure or – and I think this more likely – a failure to have a suitable alternative, despite the fact that they must have known something was up nearly two months ago.
If it is the former then they are cutting their noses off to spite their face and making it worse for Celtic in the long term.  If its the latter, then suspicions over Peter Lawwell's ability to know who is available and how to attract them to Celtic can only be correct.  Either way what we are currently witnessing from the Celtic boardroom is Amateur Hour.  An Amateur Hour brought to you by one the best paid football director's in the UK.
The media was briefed and were told by the club that supporters "had a sense of entitlement"  A staggering quote.  Well I'm going to quote what a moderator on KDS said in response.
"I wonder how many of us felt " entitled" when we were paying hard earned cash for Season Tickets when we knew the likelihood was we wouldn't see any live football this season.
I wonder how many of us felt " entitled" when were were breaking all records in purchasing new Adidas strips/ clobber at the start of this season". 
If Gerald Rather was on the Celtic board I think even he would be saying to the other directors, "Steady, you can't insult the folk that pay your salaries like that."
There is a real disconnect between those running the club and the fans.  It really manifested and started growing its roots within the club after the re-appointment of Neil Lennon.  Many have described their feelings on the 25th of May 2019 when after winning the historic Treble Treble and ending what had been a fairly rancorous season, we found out that a man who had failed at Bolton Wanderers and had left Hibs in the bottom half of the table after seemingly falling out with everyone was to be our manager on a permanent basis. 
Yes he had gotten us over the line domestically in the league and Scottish Cup but Peter Lawwell's announcement and manner of it in the dressing room after the game was the ultimate in urination over the pomme-frites.  It was like your six numbers coming up in the lottery only to be told later that that the prize had been changed to Top Shop vouchers.   I have never felt nor witnessed a feeling of deflation like it after winning such a significant trophy. 
Patronising comments such as "Knows the city" and "an eye for a player" added insult to injury and if that genuinely was the criteria for his appointment, no wonder we're in the mess that we currently are.   Incidentally Mikel Arteta's was one of the CV's in the drawer that hadn't been looked at.
If you are going to go against the wishes of the people that fund you in that way, you'd better hope that your decision is the correct one otherwise supporters will question – quite rightly – as to whether you're up to the job.  If the punters think "well we could have told you where this was going to end up", don't be surprised if the faith in you evaporates.
On the 14th of December 2020, shareholders will be asked to re-elect 5 directors at the Club's AGM.  They will be re-elected of that have no doubt – Dermot Desmond will ensure it.  But here are my reasons for voting against each one of them.
SHARON BROWN
A Celtic director since 2016.  One of the biggest issues I have against the board at Celtic is "Group Think" – where they all agree with one another with the result that basic mistakes and avoidable errors occur.  There is nothing to suggest that Sharon Brown is "NOT" part of the Group Think.  I therefore will be voting against her re-appointment. 
IAN BANKIER
The last decent Chairman we had at Celtic was Brian Quinn.  He would come out and at least be visible if Celtic were in the news.  I get the distinct impression from his handling of Ian Livingston affair that the last thing Celtic want to do is give Bankier public air time.  Bankier is on nearly three times what Brian Quinn was paid.  He is not worth it.   
TOM ALLISON
Peter Lawwell's Old Muckah from Clydeport.  The head of the remuneration committee who thinks that we can afford TOP 5 EPL wages in the boardroom.  He has been in post for what seems like an eternity.  The CEO's pay should not be decided by a process akin to the "Old School Tie".  Boardroom pay at Celtic is completely out of kilter and one of its main architects should no longer have any role at Celtic.   
BRIAN WILSON
There is an underlying rationale for appointing former government ministers to the boardroom.  Obviously they understand how governments work, they know the system and if necessary they can lobby the right folk.  Brian Wilson however ceased being a minister in 2003 and left Westminster in 2005.  The administrations both in Edinburgh and London are now completely different. The Political Landscape has changed completely from Wilson's time in office.   Indeed his regular rants on Twitter and columns in the Scotsman against the SNP in particular and also the Conservatives mean that he is a likely hindrance with regards to official channels rather than a help.  We know that he kept his mouth shut in respect of "Old Board " and given that he is now a director (and also if you look at his political history) it is safe to assume that he will be keeping schtum just now.  Brian Wilson lingers at Celtic like a stale odour in an unused room of an old house.  It's time the Celtic boardroom was spring cleaned. 
DERMOT DESMOND
He is the only one where I have a dilemma.  It's not that I think he's doing a good job just now.  I certainly don't.  It's that calling for him to sell up to somebody else is a risk – a serious risk.  Football – especially in the UK due to poor rules and scrutiny by associations – can attract the wrong type of people. 
Craig Whyte, Vladimir Romanov and Charles Green, took big Scottish clubs to bankruptcy, administration and being a laughing stock respectively.    In England, the likes Mandaric and Gaydemak at Portsmouth, Carson Yeung at Birmingham City, Au Yeung Wai Kay at Wigan and Ken Bates at Leeds United have left messes that have taken years for subsequent owners and fans to clean up.  New owners of Hull City and Cardiff City have wanted to change the name and the colours respectively.  Others such as the Glazers or Mike Ashley have used clubs as a cash cow to enrich themselves or as a vehicle for their other business.  Totally legitimate but not what any right thinking fan would want. 
It is therefore a perfectly sensible and logical thing to say that with Desmond at Celtic, it is better the devil you know.  However my view on Desmond is that he looks upon Celtic as he did his investment in London City Airport.  It's something he hopes to cash in at a later date with a super profit in years to come.  For that to be achieved we need to move to the English Premiership – a subject that seems to come up in any interview that he does.  Unless Sky or other TV companies are going to pull the plug on their current EPL deals, there is more chance of Donald Trump winning a gracious loser award than there is of Celtic heading off to pastures new south of the border.   Just now it is a pipe-dream – a fantasy with no realistic prospect of it happening any time soon or even in the medium term. 
I realise that if – by chance – any of Dermot's multi-millionaire mates read this, they will scoff at somebody like me who can have trouble paying his bills at the end of the month, telling a billionaire that for the foreseeable future he is on to plums with regards to his ambition for his investment.  But if anyone wishes to tell me why it would be in the interests for the likes of Burnley, Aston Villa or Crystal Palace to agree to allow a team with an average gate of 58,000 from another country into their league and thereby making it harder for them to remain in that league and bank cheques for £100M from media companies, then I'm all ears. 
Dermot Desmond should be concentrating on the here and now.  Do something about our record in Europe instead of just shrugging his shoulders at our annual humiliations (taken to a new level this season).  As Harry Brady wrote recently on this site, have a strategy to maximise our potential.  Upgrade scouting, youth, training and medical facilities.  Build a proper main stand and museum – fitting for a club of our size and history.  Run the club properly – with attainable targets for progression in Europe – and he won't have to dip into his own pocket.  If we do that and lo and behold the Red Sea parts and we did ever get into EPL we'd be in a far better shape. 
But if all Dermot is interested in is a possible massive pay day and then I think he should sell to someone with a far more realistic agenda.  There is urgent need for change in the Celtic boardroom.  The annual loss of potential income from Europe each season proves that you don't have to be Sir John Harvey Jones or Lee Iacocca to see that something is wrong in the way Celtic are set up. 
If you look at Celtic from a purely corporate Governance view, the way the boardroom is composed is asking for trouble.  Directors being there for "15 years plus" is a recipe for a company to become stale and to stand still.  (A wee note here – Celtic turnover last year was £70M.  £1M more than when Peter Lawwell became CEO 17 years ago – yes I know Covid would have knocked it down from nearer £80M but it shows that we are not a growing business – Incidentally Peter Lawwell' salary is almost £1M more than when he joined)
Directors deciding the pay of other directors, who happen to be their friends, is no way to run a business.  We need fresh blood, fresh ideas, an end to the cosy consensus that everything is fine, and directors who are willing to question the current direction of travel.  Peter Lawwell has to go.  He is holding Celtic back – an albatross around the club's neck.  He should be joined in the exit door by Brown, Bankier, Wilson and Allison.  And if Desmond is not prepared to make these changes then he should sell up and go too. 
We're at a crossroad.  Either we accept the urgent need for change and make the necessary alterations at all levels of the club.  Or we can plod on the current course which I think will see the disconnect between those running the club and the fans turn into a chasm.  Right now I would compare us to the early eighties where many of us watched in envy as Aberdeen and Dundee United tore it up in Europe whilst we had Paul McGugan and Pierce O'Leary playing in our defence.  "Why couldn't we be more like them", we said as the board ignored our pleas and called us malcontents. 
We know what happened when they didn't listen to us.  I fear that the current board are not about to make the same mistake.