Tomorrow marks the 40th anniversary of the first time I witnessed a Celtic game versus Rangers. On 11th January 1977, Jock Stein's team faced Jock Wallace's men in top of the table clash at Celtic Park on a bitterly cold night of arctic weather.
Like many young boys, my parents, well my mother really, wouldn't allow me to attend what used to be referred to as 'The Old Firm' game in the 1970's. This was a great frustration to the young me and it created a bit of mystique around this fixture, given the terrible reputation these matches had at that time. Did grown men really turn into howling banshees for 90 minutes ? The answer was, undoubtedly, yes.
I nearly didn't get to go. I was getting changed to go the local youth club when my dad sprung the news on me. The initial excitement faded when I remembered that mother wasn't home yet from work and I knew she would take a great deal of persuading. On her return there was a heated debate before father won the day. The last thing she said before we departed was 'If anything happens to that wean, don't you bother coming home', a reference to the 11 year old me, an only child as well.
The game had been cancelled from 3rd January due to the mixture of snow and heavy frosts that Glasgow was suffering from at that time. Only the help of a dedicated team of volunteers had helped the Celtic ground staff clear the heaps of straw from the pitch, which had been put there for days on end to protect the playing surface from frost.
Our tickets were in the lower main stand, near the Rangers end of the ground and it's funny to look back and note there was no strict segregation then. Generally speaking, people behaved better in the stand, which is probably why my dad decided to take me. There was a fair bit of 'growling' going on but there was a notable police presence there to keep things calm. It was also noticeable that men drank openly from wine bottles and beer cans, with 'cerry oots' situated all around their feet.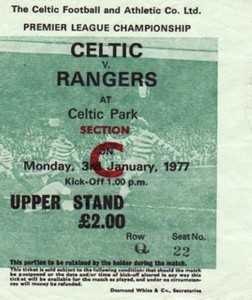 Celtic were on a good run of form and were favourites to win. Kenny Dalglish and Danny McGrain were by far the best two players in the country with Ronnie Glavin. Pat Stanton and Joe Craig all enjoying fine seasons. Rangers were still a thereat though, with the twin strike force of Derek Johnstone and Derek Parlane, always a thorn in Celtic's side.
The game was a bit of a blur for the schoolboy me. I recall the pitch being slippy and bales of hay and snow mounted high at the side of the pitch. The players wore the fashionable Adidas Samba trainers in order the keep a better grip on the pitch. The other thing that fascinated me was the Rangers' support. It was dark and you couldn't see them but you could certainly hear them. There were 20,000 of them in the 56,000 crowd and this made for an electric atmosphere. In the 1970's pre-segregation days not many away fans were brave enough to go to Parkhead or Ibrox with colours on. To witness a full away end was quite a novelty at Celtic Park.
Celtic were the better side on the night and Rangers looked content to hang on for a draw. There were around 15 minutes remaining when Andy Lynch took a short corner from Johnny Doyle and slung a perfect cross into the area. Roddy MacDonald sent a powerful header goalwards, which Rangers' keeper Kennedy appeared to have covered. The ball was then inadvertently diverted into the net by Rangers' Colin Jackson. A goal for Celtic and bedlam broke out in the stand. Pockets of Celtic fans celebrated joyfully whilst I was thrown about like a rag doll by an assortment of unknown Tims. Everyone had a go at guessing the scorer but we only discovered it was an own goal on our return home.
With time running out, there was more drama when Celtic goalie, Peter Latchford, misjudged a high cross. This allowed Tommy McLean to loop a header goalwards, only for a young Roy Aitken to anticipate the flight of the ball and head it off the line. More cheers from the Celtic fans and with that it was time up.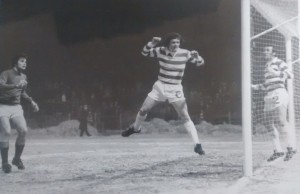 The journey home was an enjoyable one. We were cold, and I know it's corny to say it, but our hearts were warm after the victory. I recall passing through Bridgeton Cross as large numbers of Rangers fans walked back into the city, soaked and bedraggled by the sleet which was now falling. They were huddled from the elements under huge union jack flags and their mood was not helped by their loss on the field of play.
My mother was relieved to see my return and it was off to bed tired and happy. The next day at school I was suitably modest about attending the game, knowing that none of my other friends had been.
'Here boays, ye'll never guess where ah wiz last night….'