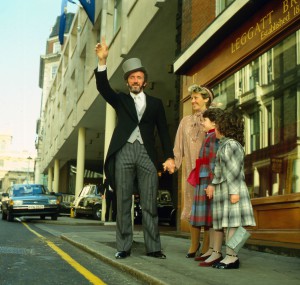 On March 1st 1983 Danny McGrain had an important appointment to keep. Together with wife Laraine, and daughters Vicki and Dawn, he was all set to go to Buckingham Palace to receive an MBE from the Queen Mother. The Queen was on an overseas trip so the QM was a substitute in her place.
A limousine was ordered to take the McGrain clan, dressed in their finery, in style from their hotel to the palace. There were 120 people there to collect some award or another and they obviously kept the best until last as Danny was 120th to be seen. There were a a couple of Scots to keep Danny company and perhaps the most famous person,other than the great man himself, was Brian 'Johnners' Johnston of cricket commetataing fame.
The presentation was said to be short and sweet. The old Queen Ma asked Danny Bhoy how long he had been playing football to which he replied '15 years'. 'You must enjoy', it she said. 'Yes, and I still do', was was his reply.
When Danny went outside he found John Murray from Uddingston waiting for him. Murray, working as a joiner in Brixton, was a huge Celtic fan and waited during his lunch break to pass on his comgratulations to his hero, proving you can find Celts everywhere, even in Buck Palace.
The next day before returning to Glasgow, Danny, who is a diabetic, visited Guys hospital to help launch a new type of multi purpose insulin, which can be used for all degrees of suffeerers.
Danny was the latest Celtic personality in line to receive an award at the palace, Jock Stein, Sir Robert Kelly, Billy McNeill and Bobby Lennox, being the previous Celts in question.