Celtic are to be complimented for arranging the fixture against the German side Borussia Monchengladbach on 27 July. For too long the club have arranged a series of dreary, unimaginative pre-season friendly games against mediocre opposition and it's good that a side like ourselves, who have European football on a regular basis, gets to play against continental sides where our players will learn far more than they would against English opposition.
For those of us who were around in the 1970s, the name Borussia Monchengladbach will always have a special ring to it. Three teams dominated European football in that decade, Ajax, Bayern Munich and Liverpool. It should be noted however that at their peak Borussia were a match for any side in the world and only fate transpired that they did not achieve the success that their fine play deserved.
In the late 1960s Hennes Weisweiler took over as manager of Borussia and he earned a magnificent reputation for rearing young players. A list of the best of them reads like a who's who of European football. Jupp Heynckes, Berti Vogts, Gunter Netzer, Rainer Bonhof, Herbert Wimmer, Henning Jensen and Alan Simonsen all came through the Borussia set up to prominence as international, world class players.
West German football was at its peak in the early 70s with Borussia and Bayern Munich winning every Bundesliga title between them from 1969 until 1978 with Borussia winning five to Bayernâ's four. This was a notable achievement as Bayern were three times European champions during this period with their magnificent side of Beckenbauer, Muller and Maier vintage.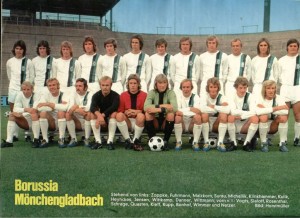 From1972-1974 German football really came to the forefront of the game when the fine West Germany team won both the European championship and then the World Cup on home soil. In the 1972 European Championship semi final at Wembley the Germans tore England apart by 3-1, inspired as they were by Borussia's greatest asset, Gunter Netzer. Netzer absolutely destroyed the sterile English team and became a world wide superstar in that era. Forget George Best, Netzer was the playboy footballer of the period. With his blond hair and Teutonic good looks Netzer made Best look like Davie Dodds and on the park he reached a level that no German had achieved until then.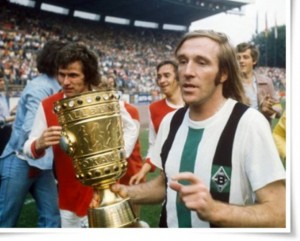 Borussia's problem was keeping their players. Netzer was lured to Real Madrid and throughout the decade the big Spanish clubs poached their stars and it was no surprise when Weisweiler left for Barcelona and was replaced by Udo Lattek.
By the mid 70s Borussia had the reputation of being in Europe's elite and only fate was to decide that, unlike great rivals Bayern, they never lifted the European Cup. In November 1971 they played Italian champions Inter Milan in Europe's premier tournament. In the first leg Inter won 4-2 but in the second leg a Netzer inspired Borussia annihilated Inter by 7-1, a score line which reverberated across Europe. However during that second leg a Coca Cola can was thrown from the crowd and the Inter player Boninsegna was said to have been struck on the head and was carried from the field. It has to be said that despite Borrusia's 7-1 win Inter had ended up with nine men at full time due to a mixture of injury and ill discipline.
A UEFA inquiry afterwards resulted in the result being declared invalid and the second leg having to be repaid in neutral West Berlin. Shades of Celtic-Rapid Vienna in 1984 when justice was similarly undone. The replayed game finished 0-0 and Borussia were out and the irony is that Inter went on to face Celtic in the semi finals and that could have been Borussia coming to play at Parkhead in the semis and not Inter. Ajax beat a tame Inter in the final and leaving Celtic aside for a moment an Ajax-Borussia final would have been a mouth watering prospect.
In 1977 Borussia did reach the European Cup final when they faced Liverpool in Rome. There wasn't much between the sides and Borussia carried no luck when Bonhof hit the post at 0-0 and when the game was at 1-1 Borussia were the better side. In the end a Kevin Keegan inspired Liverpool won 3-1 and Borussia's golden age was over as their younger star players Bonhof, Simonsen, Jensen and Stielike departed for the cash rich sunnier climes of Valencia, Barcelona and Real Madrid.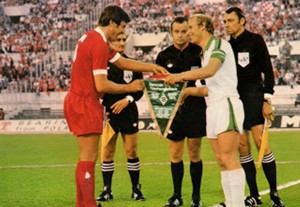 Jupp Heynckes is known these days as a top class manager but we should remember what a magnificent striker he was and he is the third top Bundesliga scorer of all time behind Gerd Muller and Klaus Fischer. In 1978 Borussia Monchengladbach beat Borussia Dortmund by an incredible 12-0 score line, a result which still causes embarrassment in Dortmund until this day. Heynckes had his finest day then by scoring five goals and had it not been for his contemporary, Gerd Muller, he may have been regarded as the finest German striker of all time. Sadly, after the 1970's Borussia fell into decline and in 1997 and 2007 Borussia suffered the ignominy of relegation.
Borussia have come up against Scottish opposition previously with mixed results. In 1972 they thrashed Aberdeen in the UEFA cup by 9-5 on aggregate and a year later they beat Rangers 5-3 on aggregate which sounds closer than it was as Borussia absolutely thrashed the Huns 3-0 in Germany in one of the worst defeats the oldco ever had in Europe, and they had a few. However in 1981 Borussia faced Jim McLean's Dundee United and won by 2-0 in the first leg inspired by a very young Lothar Matthaus. At Tannadice in the second leg United had an incredible display by winning 5-0 with one of the finest ever displays from a Scots club in Europe. In 1986/87 they knocked oldco Rangers out of the UEFA cup on away goals before McLean's United again beat them, on their road to the 1987 UEFA cup final.
Another reason for recalling Borussia's exploits is that they were one of the few notable European clubs to have green in their strip. Those famous green, white and black colours will now be seen at Parkhead in July and our German guests are most welcome to play at CelticPark for the first time.