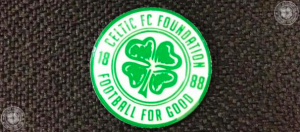 Volunteer for a simple act to help Glasgow's homeless people
Celtic FC Foundation badge Day
Sunday 11TH May
Celtic Park
From 10.00 am
Simply by volunteering and turning up at Celtic Park a couple of hours earlier than kick off on match day you can be helping tackle Glasgow's homeless community.
We need 110 volunteers to man each turnstile before the match v Dundee Utd on May 11th and sell the badges in return for a minimum donation of £1. It's really that simple!
All the proceeds from Celtic FC Foundation Supporters Committee Badge Day on May 11th will be used to support projects around homeless people in Glasgow.
Celtic supporters have a fantastic reputation for supporting worthy causes and there is no cause more worthy than supporting projects around homelessness in our city. These people, our neighbours have no other provision and are forced to sleep rough on almost a daily basis.
We need to work with and support these adults and children who lead difficult and chaotic lives and help them break free from their oppressive circumstances.
What a great finale to the season – Champions party, 3 INAROW & helping the most vulnerable people in our community on their journey to life transformation.
As a small token of our appreciation each volunteer will be offered a ticket for the match so that they can join in with the post-match celebrations.
THIS IS OUR CITY
THESE PEOPLE ARE OUR NEIGHBOURS
THIS IS HOW YOU CAN HELP
To volunteer or for more information please email cfcfvolunteer@celticfc.co.uk
Link to club news story  http://www.celticfc.net/news/5680
@LEFTYBHOY