2. This one is a sadder memory. In April 1977 Celtic travelled to Motherwell needing a point to clinch the League title. This game was a personal tragedy for Andy Lynch who scored two own goals in a freak 3-0 defeat. This one shows Andy being consoled by Ronnie Glavin as a young Tommy Burns looks dazed. We won the League in the next game at Easter Road anyway so all was well in the end.
3. Derek Johnstone is seen claiming that the ball has crossed the line in the 1976 Glasgow Cup final at Celtic Park. In those days the Glasgow Cup was still a big deal and there were 55,000 at this match played on a hot August evening. Rangers won 3-1. It won't surprise you to know that some Mason in the black awarded a goal much to the consternation of the Celtic players at the time.
4. Games at Cappielow in previous decades tended to be close, hard fought affairs played in front of a packed crowd perched right on the pitch. This one shows Tom McAdam making a spectacular goal line clearance from Morton's Bobby Thomson. Celtic won 1-0. The atmosphere in these wee grounds was something special back then.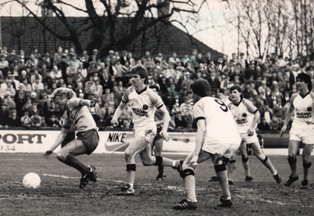 5. Dumbarton once produced players of the calibre of Ian Wallace, Murdo MacLeod and Graham Sharp. Even so it was still unusual to see the Sons of the Rock in the premier league but they were there for season 1984/85. This pic shows a Celtic forward in the old lime green strip scoring in a 2-0 win in April 1985 at Boghead. Can't quite recall his name though…..
6. If Cappielow and Boghead were small tight parks then Douglas Park Hamilton was even worse than that. It was a ground I never enjoyed visiting and this image shows Brian McClair in Celtic's change strip of yellow and green from November 1986. Celtic won 2-1.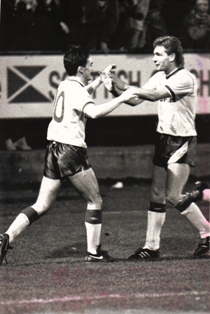 7. Peter Grant is seen congratulating Andy Walker after Andy had scored in the first minute of the match against Dunfermline at East End Park in the centenary season, March 1988 to be precise and a 4-0 win in the process. From what I recall we enjoyed an enjoyable afternoon in the boozers beforehand watching Steaua Bucharest thump Rangers 2-0 in Rumania before jumping on the bus to Fife. That was quite an enjoyable day.
8. Tony Cascarino is seen shooting for goal in 1991 against Shamrock Rovers in Ireland. Big 'Cas' was an Irish internationalist who Aston Villa conned us into paying £1.1M for which is incredible now looking back on it. He was arguably Celtic's worst ever signing and was soon moved on in a swap for Tom Boyd of Chelsea. What a deal that was….for us.
9. It's Dunfermline again from 1991. These were dark times for Celtic and in January 1991 we were well out of the League race as Rangers dominated. Celtic won 1-0 and here we see Gerry Creaney fighting for possession against Everton boss and ex Celt Davie Moyes. I recall this one because even though Celtic didn't have a lot to play for we took a huge, noisy away support that night. Faithful through and through right enough.
10. Charlie Nicholas and Stuart Slater troop off the Parkhead pitch after Borussia Dortmund had beaten us 2-1 in November 1992. This was actually the first Euro tie in their 30 years European history in which we had lost both legs. A proud record had gone.
11. This one shows Celtic against Spurs from 1991. A guy called David Howells has just assaulted John Collins and Fulton and Cascarino are looking to lay into him. Collins had the last laugh as he scored the winner although Pat Bonner was Celtic's man of the match after a string of great saves from Gary Lineker. Lineker never could beat Bonner even at international level.
12. Last one is from Tannadice in December 1991. I wonder if any of you can recognise the United striker heading for goal ? If you thought Cascarino was a waste of money then this guy was equally bad. His name was Victor Ferreyra and he was, I think, Argentinian. Before this game I was on the Govan Emerald bus who were normally the first to arrive in Dundee in order to enter the local watering holes in good time. When stopped at the lights near to the ground there was Jim McLean, in a tracksuit and bunnet, out for a run. Upon recognising him the Bhoys on the bus came him a 'friendly' wave and 'Wee Jum' replied by giving us a similar doze of the Harvey Smith's back at us. He was smiling though and it wasn't often that he cracked his face with a smile.