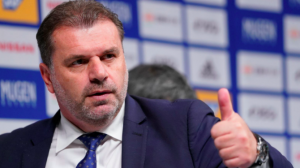 By Thomas Hanlon
I have done a lot of thinking over the past few days, much of it has led me to be a bit embarrassed about my reaction to the news that Celtic had been unable to conclude a deal for Eddie Howe and had now switched their attention to Ange Postecoglou.
Firstly, I think this was because I believed so much time had been wasted, not Celtic's on Howe but my own. I have read many articles, watched Youtube videos, I even watched that minus 17 documentary.
As my wife will testify, I am a near 40 year old man who will still scribble Celtic teams and formations down on a notepad and there were a few drafts which included my predicted Howe "Dream Team" (Asmir Begovic in goal anyone?)
The suddenness at which the deal collapsed and with which an alternative was identified led me to think the club has/had no Plan B and had used their contacts to give them the name of  "sure thing"
As a lurker on the Kerrydale Street Forum and occasional twitter user I was swept in the maelstrom.
I even got involved in one of that most unedifying of things "an exchange of views on Twitter" (those are Neil Lennon style quotation marks by the way) with a Japanese based journalist.
His tone was one of bemusement as I rubbished Mr. Postecoglou's record and I think at one point bizarrely facial hair (it did get a bit brown Brogues).
Our own Club was not spared my ire, I think we can all throw derogatory adjectives at them but it can be summarised as thus – if we weren't 100% certain Howe was taking it we should have moved on long ago.
Over the days following, I took the opportunity to read some of the articles and watch some of the videos around the new candidate.
As the Celtic Underground Twitter account itself said, "What is the alternative? Screaming profanities into the void (I paraphrase) and it with that thought I proceed, though I will come back to Ange Postecoglou later.
I don't think the Celtic board (a catch all phrase here to include Peter Lawwell and Dermot Desmond) are bad people, or lining their pockets, acting out of spite or generally trying to "shaft the support". If I have missed some slights out here, please let me know.
Peter Lawwell, our outgoing CEO, is a Celtic supporter and although I have disagreed with some of his decisions (and I accept, it is only my belief that they are HIS decisions) I have no doubt he has the best interests of the club at heart.
Likewise, Dermot Desmond, I am no financial expert and I see no great benefit to him in holding onto his shares, we are unlikely to see an explosion in the value of the club by moving to England/European League etc. so I assume that those shares hold some other value besides financial for him.
In the case of these two men, what would be the alternative, that they are sabotaging the club? I readily admit in my more unhinged moments you could probably catch me uttering some of this stuff. However, what benefit is there in that? Even if their motives are financial, those motives are best served with a successful team.
I think the notion that we are best served by allowing Rangers to "catch up" with us and create a scenario where leagues go back and forth is not something I believe to be true. I can only begin to imagine the size of John Paul Taylor's email inbox and the other communications to the club. I cannot believe this is a favoured outcome when I consider that.
As an aside, one of the theories I heard was that the club had taken down the Green Brigade's Pro Palestine flag's and banners was because of our links to the City Group. So this theory went, that group is based in UAE, which has just signed a peace agreement with Israel and so on and so on.
I admire the creativity but when those sorts of suggestions are around it is best to outside for a walk. Real life is usually more grey that this and usually there are well meaning but incorrect or ignorant decisions to blame.
I note that a previous guest on the podcast Juco James shared his perception of how things have played out since last year and I share it here
https://twitter.com/jucojames/status/1399312864788221954
James posted this prior to the Fergal Harkin story (or non story) yesterday but I believe it to close to the mark as it shows emotional decision making as opposed to ill intent as the key factor.
The last 14 plus months have shown me that it is far easier to cling to disappointment and negativity, positivity on the other hand requires effort.
It is easy to find bad news because as the saying goes you never read about planes that land.
It always easy to find someone to blame too (an offence that would leave me unable to cast the first stone) the board in this case but was the desire for ten in a row and the bad decision making really just a reflection of the support many of whom would have forgone success in Europe to get the "ten"
I imagine if there had been a groundswell of opinion to improve in Europe (how the Green brigade would have managed to fit those lyrics into the tune of "Here we go, ten in a row" is unclear) then there may have been a greater appetite for change.
So what is there to be positive about?
Well, there can no be no doubt that a rebuild is required, and like any rebuild it is better when all the problems are laid bare at the start.
Eddie Howe would have been a success at Celtic, I believe, but the wolves (possibly Wolverhampton Wanderers themselves) would have been at the door before long with the uncertainty and speculation that would entail.
The New CEO is starting at a difficult time and I hope that will be a proving ground for him.
The Squad will need to be rebuilt and in an era of depressed transfer values we may find that our business can be cost neutral or better (Although we may receive less in fess for our star players, it is likely the fees for replacements will be similarly impacted)
Coming back to Ange Postecoglou, I took the time to read over articles, watch videos and listen to podcasts.
A compelling and positive picture is painted.
If you choose to be negative you may consider these "puff pieces" however I think it is wrong for us to dismiss someone's achievements, particularly when we are often on the other side of that criticism.
There is something to be said for getting your message across when you don't speak the language (in the case of his time in Japan) and adapting to a different footballing culture.
Expectations are not at the peak of the last few years and achieving improvement from last season is a realistic goal.
One consistent I hear is his strength of personality, in this century our Successful Managers (O'Neill, Strachan, Rodgers) have had strong personalities despite being very different when it came to the style of their teams.
In some respect that applies to Neil Lennon first time round too, after he rebuilt the team in the ashes of the Mowbray project.
It does take a certain type to be successful here, and in the local parlance you have to "fancy yourself" I think that seems to apply here.
In an earlier article I referenced Wim Jansen, who had to put a squad together on the recommendation of the previous regime's scouting reports.
Just think for a moment, what if it works – how good would that be?
Looking at the replies to any communication from the club online, and I have no innocent here, but there is no benefit to anyone to be that angry and unhappy.
I renewed my Season ticket last Wednesday, on the day they came out. I don't want a medal or anything of that nature and how people spend their money is up to them.
I have missed going to the games, I missed my friends at the games and I have even missed the guys moaning behind me.
I hope to see you all there.