Article by @hailhailhistory
Anyone who watched Celtic in the 1990s saw their fair share of clowns – but 100 years earlier Celtic really did have a circus connection.
In 1893, an advert appeared in various newspapers across Scotland for Ginnett's Circus. Amongst their many attractions – such as clowns, animals and a pageant – was an event that claimed to involve Celtic.
Celtic players "past and present" (so said the advert) would travel the country playing six-a-side games versus local teams. The most notable of these footballers was James (Jimmy) McLaren, nicknamed the "Ould General" (sometimes written as "Ould Gineral").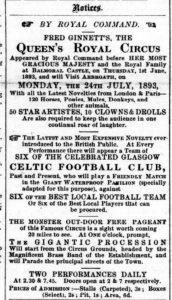 Jimmy McLaren was a Celtic player between 1888 and 1891, and again from 1895-96. He played 16 first team games, scoring three goals. His most notable achievement was captaining (and scoring for) Hibernian when they won the 1887 Scottish Cup.
Jimmy McLaren was to be the captain of the 'Celtic' side, which – according to newspaper reports – included other players such as Britton, Galloway and McAllen.
This so-called Celtic side took part in various games across the country, including Brechin, Bathgate, Alva, Motherwell, Banff, Peterhead, Arbroath, Coupar Angus and Dingwall. The games consisted of two 15 minute halves.
Some of the sides the 'Celts' played were proper football teams, including Forres Mechanics, Anstruther Rangers and Elgin Rovers. Other times it was just groups of local men. Reports of these games suggest that 'Celtic' won most of their games, although they did lose when playing in Portobello.
The only problem with this whole story was that there was not actually an official Celtic connection, indeed Celtic Football Club denied having anything to do with the venture. The use of the name Celtic seems designed to attract visitors and play on the club's fame.
It was true that Jimmy McLaren had been a Celtic player, however none of the other named players had featured for Celtic (certainly not the first team anyway).
It is perhaps more likely that they were just players of other sides; for instance, Britton may be Jimmy Britton that played with Clyde and had featured alongside Jimmy McLaren in a Glasgow Select side.
See below for further details from reports at the time.