John was an older man who used to travel on our supporters bus and he could wax lyrical about any post war Celtic player. Many a conversation we had discussing the merits of such luminaries as Paddy Turner, Billy Price and Frank Haffey. He had quite an opinion on most things related to Celtic and I can recall him controversially insisting that Willie O'Neill was a better defender than Tommy Gemmell in the left back berth. Many a long trip we shared following the Celts and debating the merits of old Celtic players.
I once had cause to visit him at home and I remember noticing a photo in frame on his wall. It was a photo of John Fitzgerald Kennedy, president of the United   States. John explained that when Kennedy became president in 1960 this was a massive boost to the Irish Catholic Diaspora who lived in Scotland at that time. In those days it wasn't a surprise to see Kennedy's image on the walls of Catholic households alongside the Sacred Heart and the Virgin Mary.
Kennedy became an icon for Scots-Irish Catholics. Only a couple of generations previously the Kennedys had been poverty stricken immigrants from Ireland looking for hope and a better life. As John said here was John Kennedy, now the most powerful man on the planet, and he was one of 'us'. Kennedy gave men like John something to aspire to and the knowledge that future generations would not suffer the socio-religious and economic problems that he had in his time. On Kennedy's initiation as President in 1960 John had bought a calendar from a street vendor outside Parkhead before a Celtic home game and after the calendar had served its purpose he had the picture framed and put on his wall for posterity.
JFK became a powerful symbol to Celtic fans. In the 1970's I recall travelling to away games and looking keenly for the John F Kennedy Celtic supporters bus from Perth. On the back of their bus they always had a distinctive white and green St Andrews cross style flag with the face of John Kennedy in the middle of it. To this day it remains one of the most striking and distinctive Celtic banners I have ever seen.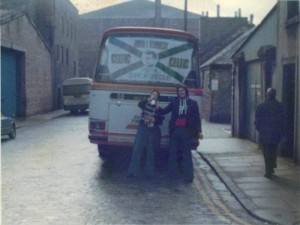 I have only a vague memory of been given a tour of the old Celtic Park in 1979 and I'm sure that there was a 'presidential suite' within it with a large framed picture of President Kennedy on the wall. Perhaps some older fans can confirm if this was actually the case?
There is obviously a very tenuous link between Kennedy and Celtic. It's very doubtful if the great man ever visited Parkhead but what they both have in common is that they were descendants of humble Irishmen and went on to become world famous and have great achievements.
This week marks the 50th anniversary of the death of John F Kennedy in Dallas. In later years it has became obvious that Kennedy was a man not without faults depending on which biographer you choose to believe. But the fact remains that John Kennedy's image will never age. He will remain forever young and there are many of John's generation who will lament his passing on the anniversary. John F Kennedy will live forever.