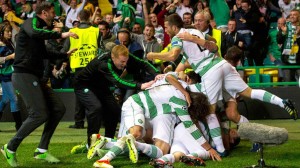 By
Estadio Nacional
The lack of questioning of the football Neil Lennon's teams play should be a concern for the Celtic support just now. It seems people have fallen for the whole PLC, Neil Lennon the brand plodding on when we should be doing more on the park than just showcasing the next set of shop window players.
At a time when the league is considered easier than it has been in our history we must be playing some of the most inept non creative football we have ever played. The argument that we play that way domestically to get used to it for European games really cant stack up when you consider players never play with their European head on in domestic games and we regularly struggle against average teams.
Are season ticket holders and Celtic TV subscribers not due a bit more than that?
The shop window thing we sold these players, the 'come star in the Champions League and we will both make money' dream can't help. Suppose it's how we have to sell players to Celtic now but it doesn't give them hunger to impress, a few do and fall for the club, but its rare.
In this day and age you can't really blame them for failing to turn up against low league teams we face in the cup. That's where the manager comes in, he has to motivate, difficult in those circumstances but he should be able to make players who are picked for those games hungry for them. Good first teamers, bit part players and reserves should be hungry in those games. Maybe they have been, lack of creativity in those games also let the team down. Even if there's no motivation surely the football against lower standard teams should over come.
Season tickets are sold on loyalty or new deals that are offered, is it wrong to think football should sell tickets? The PLC are delighted with what we are doing just now, very fan friendly manager plodding through the league and turning it on for CL games and playing negative football for points/money. I love what we have done in the last two seasons in the Champions League but the football has been horrendous and creativity inept at times.
Away to Ajax it was clear from early on we were continuing the instruction to win free kicks or corners in their half, it seemed our only creative idea, to me that's not Celtic. It's embarrassing.
I was embarrassed to see the Spanish paper AS description of the performance at home against Barcelona as non existent in creatively or football ideas. We all have been abroad and heard folk ask about Celtic who love our reputation for pure beautiful attacking football, people only talk about the fans and atmosphere now, probably for the best they don't talk about the football, or lack of it.
In the Chris Sutton book he mentions Neil Lennon as not having a creative thought in his head while talking about a Seville run game. Of course this was talking about Neil Lennon as a player but you have to wonder if it's the same as a manager. Central midfielders who are instructed to pass it wide for wingers to fling a ball in or win free kicks or corners seems to be our attacking plan these days. It must be obvious to opposition mangers to shut down our wide players and leave us with no plan B.
Everywhere we go now the reputation on Celtic is this Lennonaccio thing, dour turgid defensive play but the fans are great. See Iniesta, Xavi etc for quotes. I think Aiden McGeady was the last player an opposition manager or staff came away from Celtic Park talking about rather than the 'atmosphere' we know the atmosphere is good. Would it not be good to hear a team mention football or a player? That would make me proud instead of the patronising 'atmosphere' thing.
I appreciate we have our limits financially, so do Ajax, Basel and many other clubs. Do they take the easy route and the utter fear and lack of creativity we are becoming known for? They don't.
The football brand has been lost while the PLC brand has done well, is this Celtic?
I think any other manager would be chased for this lack of football but think he is very comfy in his role due to people liking non managerial things. Yes he has suffered away from football for his involvement with Celtic and yes this is a good reason for our continued support of him but questions need to be asked about the football.
Willie Malley: "Celtic Park, where a man is juded by his football alone."
Is it?
Follow this author on Twitter – @Graham1A