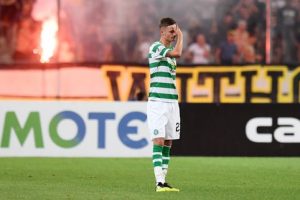 I've seen last night's movie before. Like one of those Hollywood franchises that gets milked to death, where they have different characters and different locations but the core elements of the story repeat Celtic keep turning up in foreign cities and put in the same basic performance.  At least in these franchises the producers eventually have the sense to stop when the public has reached exhaustion.  Unfortunately, this particular Celtic story keeps getting the same tired reboot.
In the last 20 years of European travel we have had poor results and performances with just the odd notable exception. Obviously there was the Seville season and interspersed over that last 20 years there has also been the some exceptional results coupled with the occasional glorious failure. But in the main the results and performances with different managers and different players, in different cities across Europe have been abysmal.
In the last ten years we've had 57 away games in Europe.  Excluding Sion, we've won at Dynamo Moscow, Helsinki, Helsingborg, Spartak Moscow, Cliftonville, Reykjavik, Stjarnan, Linfield, Rosenborg, Anderlecht, Alashkert. Eleven games, nine of which we should have won, two absolute oasis in the desert performances against Anderlecht and Spartak Moscow, and some absolutely howling performances including Braga, Utrecht, Legia, Malmo, Molde, Hapoel, and Zenit, not to mention losing seven goals twice. It is impossible not to conclude that no matter who we have as manager or player, we have a massive problem every time the backsides of the players hit a seat on a plane at Glasgow Airport.
Last night did not include the franchise staple of a defensive howler inside the first 5 to 10 minutes, it contained the alternate franchise option of an early goal to give us hope. Thereafter, however, we continued the usual model of players, when in possession, looking like they have all the confidence of the non darts player in Bullseye. The ball arriving in the proximity of a Hoops jersey is seen by all of us during these games as an achievement, with regular passes straight out of play and players (even the best ones such Kieran Tierney) being regularly caught in possession.
Obviously we will meet teams better than us in European football, and teams playing at a level well in excess of anything we encounter domestically. However, this does not account for many of our performances over the last 20 years against sides at or below our own standard (I think of Rosenborg and Anderlecht under MoN, Bratislava, Braga and many others since then) where we just failed to do the basics.
We can talk about selections, formations, systems, signing strategies etc, and for each individual result one or more of these will be a factor however they do not account for players just not doing the basics when under no pressure. They do not account for the mental collapses that occurred last season against Barcelona and PSG. They do not account for the same players, same manager, and same system having the performances that we did against Munchengladbach or Manchester City (twice). There is a bigger mental issue.
Last season during the away performances against Zenit Chris Sutton kept asking the question on TV commentary about how a team who put in such a marvellous performance at home against Zenit (and should have scored more goals) could be putting in such an abject performance away. That night on Twitter I pinioned that instead of asking the question Chris was in a unique position to provide the answer. Many people (in the usual fashion of social media) seemed to miss the point and threw back at me that Chris wasn't on the park, and what about the Seville season.  We had fabulous players when Chris Sutton got to the Seville final. Those same players, with the same manager, also lost to a 10 men Anderlecht away. They lost comfortably to Rosenborg away and they lost 3-0 to Porto away in a performance that could've easily repeated the scoreline of Brendan's 7 away to Barca and PSG.
It was not a criticism of Chris Sutton for his verbal demolition of the team, it was a genuine plea for somebody to answer the question of the last 20 years of Celtic European performances. What is it about our players that when they fly to an away European game on the whole their performances have been woeful?
As the above results highlight, and as we know anecdotally without needing to review every result, some managers have fared better than others.  Some have managed to get more of the stable away performances (Lennon and Strachan spring to mind) but they still contained brain freeze displays.  It can only be a psychological issue and a psychological challenge that could not, on the whole, be solved by Martin O'Neill, Neil Lennon, Gordon Strachan, Tony Mowbray, Ronnie Deila, and now Brendan Rodgers.
If the issues begin the moment our players arses hit the seats at Glasgow Airport, maybe we should try flying from Prestwick!