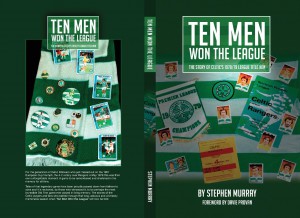 There was a chant, in the early 80's that rang out around Celtic Park and at it's most vociferous when we played Rangers.  To the tune of Boney M's Brown Girl In The Ring it was – Ten Men Won The League!  A song about the night in 1979 when Celtic secured the league by defeating Rangers 4-2 despite losing Johnny Doyle to a red card.  A mythical game.  Like the 7-1 game it has been seen only by those in attendance with no tv coverage due to a BBC strike but now there is a new book which tells the tale of the incredible season 1978/79 which culminated in this wonderful game.
Those of us old enough to remember that time will recall the appointment of Billy McNeil, the new young players adorning the hoops, the cold and snow which had games off for weeks.  Off the park there was the forlorn Jim Callaghan with the "Crisis, What Crisis" statement and the winter of discontent and the general election that led to 18 years of Conservative rule.
Yes it was an amazing time.  The author of that book is well known to you – St Anthony of this website (Stephen Murray) and in the book Ten Men Won The League he recounts that remarkable season with interviews with those who played.
Get it Here;
http://www.amazon.co.uk/Ten-Men-Won-The-League/dp/1503109747
Follow Stephen on twitter here;