Back in September, I wrote a piece comparing Celtic and Porto's economic and sporting results. When collating their respective financial results I found it remarkable (and a cause for concern) that despite Porto more than doubling Celtic's transfer expenditure over the last decade, their wage bill was consistently less than ours. Although it may initially seem illogical for Celtic to be paying higher salaries to less valuable players, there is quite an obvious explanation; to attract a player to join a new club it is probable that you may need to improve their existing salary. Porto are mainly recruiting from Portugal, Argentina and Brazil where the players may have been earning a few grand a week, whereas Celtic have in the last decade mainly recruited from the top two tiers in England, where players may already be earning 5 or 6 times more. Although it may be true that Celtic, due to playing in the SPL, may be required to offer higher wages than a La Liga club to entice a player, it is also true that recruiting a player who is earning very little in South America would generally cost far less than one earning a 'Premiership wage'.
Furthermore, although there may be scepticism over Celtic's ability to attract South American footballers to Scotland, I would point to a small number of the numerous examples of players going to lesser clubs in peripheral European leagues. For instance, Luis Suárez left Uruguay for Groningen whilst his campatriots in the Uruguayan national team, Alvaro Perreira and Sebastian Eguren joined Cluj and Rosenborg respectively. Lucas Biglia the centre midfielder for Argentina signed for Anderlecht. Giovanni Moreno (the current number ten of Colombia) initially went to Mlada Boleslav of the Czech Republic! It is possible to go on and on. It is my belief that if Celtic offer South American players significantly higher wages than they receive in their continent and we provide them with a platform where they could hypothetically be transferred to one of the major leagues in Europe, then Celtic could attract a great many talented Latin Americans. Presumably this was why Emilio and Efrain chose to sign for Celtic in the SPL.
In my previous article on the site regarding Brazilian football, I wrote about how the improving Brazilian economy was raising the standard of the Brazilian domestic league. Sponsorship and broadcasting revenue has dramatically increased allowing for clubs to pay higher salaries, retaining players for longer than before and the clubs themselves are becoming less reliant on player sales for their funding. In short, players from the Brazilian football are more expensive than before, both in terms of the transfer fee and their wages. Times change and European clubs that had specialised and benefited from using the Brazilian market, such as Lyon, Udinese, Benfica and Porto, will face a challenge in the near future of having to restructure their scouting network to look at other markets to obtain high quality and affordable players.
The alternative that I have repeatedly suggested (ad nasuem) is that Celtic should extensively scout Argentina, Chile, Colombia, Ecuador, Paraguay, Peru and Uruguay. I'd suggest that these countries have many high quality and inexpensive footballers that could adapt to play in Scotland. To pre-empt the usual work permit comments that tend to accompany my posts, I'll post the actual work permit regulations in the comments section below and briefly explain why I don't think it is as problematic as some assume. However, in short, the fact that Celtic have been granted a work permit for Rabiu Ibrahim, an uncapped Nigerian released by both Sporting Lisbon and PSV, indicates how lax the work permit appeals process has become in Scotland.
European clubs monitoring players in the domestic leagues of South America may be reticent to purchase until they've seen the player perform in continental or international competitions. A consequence of this is that a few good performances in high profile games can dramatically increase a player's value. Two examples of this are Sebastian Coates and Eduardo Vargas. Coates, mentioned in our Scouting Report from 2010, was widely regarded in the press as being available for around £2m-a reasonable price for an outstanding player in the Uruguayan league and the Copa Libertadores. River, Sao Paulo, Ajax and Porto were credited with interest in the South American press. Yet it was only until he played in the Copa America (winning both the competition and young player of the tournament) that his price shot up, with Liverpool paying £7m. Similarly, Eduardo Vargas price increased by more than 1000% within a year-he'd been playing well in the Chilean domestic league for two years, but it was only due to his form in the Copa Suramericana (equivalent to the Europa League) that major European clubs became interested. Universidad de Chile hugely profited as they sold Vargas to Napoli for around £7m, after buying him for approximately £600,000 a year prior from Cobreloa. Interestingly, this tiny Chilean club from the middle of the Atacama desert also produced Alexis Sanchez, which would indicate that their own scouting and coaching is something to take note of.
Due to financial constraints, Celtic cannot pay £7m for a player in the way that Liverpool and Napoli have for Coates and Vargas respectively. We can though obtain this level of player, but we need to be have an extensive scouting network in the region in order that we are aware of talented footballers at an early stage in their development before they make a name for themselves as prominent international players-by which time they are out of our price range. The level and depth of scouting that our European competitors have is noteworthy-the clubs with the best networks not only cover the professional leagues, but also youth football.
There was a boy that I used to watch a lot playing for Cerro Porteño in Paraguay, Juan Iturbe. Whilst I was living in Buenos Aires I used to sporadically travel up to Asuncion, Paraguay (26 hours on the bus) to watch Iturbe and his Cerro Porteño team play. He has now signed for FC Porto, but as he has only played 40 minutes of football for them this season (due to a back injury) my view of him is purely based upon what a saw of him at Cerro.
In Asuncion, on a few occasions I was able to talk my way into their complex and watch them train. It impresses me that Porto were so aware of him, as he wasn't even a starting player for his team, nor for the Argentina youth teams. Yet the boy is incredibly talented. In the Argentine and Paraguayan press he has been likened to Messi, though this is a lazy and facile comparison. Iturbe still has many obvious deficiencies-his first touch and close control can be a bit loose, he'll have to improve his collective play-both defensively in tracking back and pressing and his interplay with fellow teammates. That being said, the boy has so much potential it's unreal.
Like James Forrest, he plays as an advanced wing-forward. Juan Iturbe is rapid and seems to slalom past opposition players at will, like the aforementioned Alexis Sanchez. His one on one finishing is excellent and although he is a completely different player to Asprilla, he seems to have that bizarre elasticity that the Colombian had. His coaches would often wait until opposition defences were tired and there was more space for Iturbe to exploit before utilising him. The majority of Porto fans probably don't yet realise the level of player they have. He still has to work on various aspects of his game, but I'm pretty sure that his game will continue progressing in Portugal and we'll hear more about him in the next year or so. It is probably too early to say how much Porto could receive for him as there are so many variables in football. However, if he is able to develop his game and improve in Portugal as I'd expect, then he'll be playing for some of the major teams in Europe and for Argentina before long.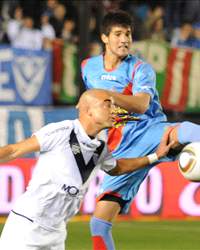 We may have missed out on Coates and Iturbe, but this being South America, there are always new emerging players on the conveyor belt. Leonel Galeano and Lisandro Lopez of Independiente and Arsenal de Sarandi respectively are two promising young centre backs in Argentina. Lopez in particular impresses me. He is tall, reads the game very well defensively and is a notable attacking threat at set pieces-he has already scored 10 goals in 72 games. I would like him to be as defensively dominant in his own box as he is when he's attacking, but Lopez is undoubtedly a very promising young player. He's been capped 4 times already by Argentina, though these have been in exhibition games using domestically based players. For me, he is the most promising centre back in Argentina today and he is someone that Celtic should be aware of.
However, in the north of the continent there is a player who I think is even more impressive at this stage in his career. Fricson Erazo, 23, is a fixture in the Ecuador national team. To be honest, I would be reticent to fully endorse a centre back had I only seen them in Ecuadorian domestic football, as the tempo is far slower and the defensive lines are so deep. However, having watched Erazo against Brazil, Venezuela and Paraguay in the Copa America and in World Cup qualifiers since then, he has really impressed me.
Apart from the Uruguayan centre back pairing of Lugano and Coates, Erazo was for me, the best centre back at the Copa America (although Oscar Vizcorrondo of Venezuela was exceptional as well). Erazo may not have received much press attention in Europe as Ecuador is pretty much neglected in football writing, but he looks to me to be an exceptional footballer. I'm struggling to remember a better passer of the ball from centre-back. His passing is remarkably accurate under pressure, he uses his 6' 3 frame well, he is very strong and dominant in the air and his defensive reading of the game was very good. I've watched him numerous times now yet I'm still not sure if he's particularly quick, as he always seems to read the play sufficiently well to that he could make interceptions without sprinting or lunging across the box-Erazo is a remarkably elegant and composed footballer. He is definitely a player that Celtic should be monitoring. Lazio and Sporting Lisbon had been credited with interest by the Ecuadorian press, but just before Christmas he moved to another Ecuadorian team, Barcelona of Guayaquil, for $1.3m (less than £900,000). If Celtic are interested in a young international centre back with exceptional distribution who would be comparatively inexpensive, I'd advise that they watch Erazo in the forthcoming Ecuador World Cup Qualifying fixtures.
The video below is only of Erazo in Ecuadorian domestic football which isn't really comparable in tempo to European football, but it may give you an idea of the style of player that Erazo is. Unfortunately i was unable to find online videos of his superb performances in the Copa America.
When writing these pieces it would be disingenuous of me to write about players that are out-with Celtic's financial constraints. Players such as Ganso, Ocampos or Dede look as though they'll become very good footballers, but there is no point in mentioning them if their perceived value would be unobtainable for Celtic. However, equally, sometimes it is difficult to attribute a value onto a player.
A case in point is Andy Polo, an exceptional young forward in Peruvian football. His shooting with either foot is remarkably accurate, he heads the ball well, makes clever runs finding space well, leaving his marker. I'd imagine that all major European clubs are aware of him and probably of Edwin Flores and Raul Ruidiaz too, all of whom have recently come through Universitario's youth system.
Yet within the last week, the Peruvian Football Federation has announced that Polo (and Ruidiaz) are free agents, due to the club being unable to pay their wages. The club, Universitario are financially a mess. Genoa, illustrating the need to have contacts on the ground with local knowledge, almost immeadiately arranged for flights for Polo, his father and agent to Italy and it is expected that they'll sign him by the end of the week.
Universitario meanwhile are insisting that they will recoup compensation from Genoa for the cost of his formation. That may well be the case but the whole situation seems destined to go to court unless Genoa and Universitario arrange a settlement. There is confusion amongst both the Italian and Peruvian press as to the eventual cost of the deal, with estimates ranging from £1m to £5.5m.
The story demonstrates the need for European clubs to have a deep network of contacts who know the local football politics and can provide this kind of information back to their clubs. It may well be the case, that through these contacts, that they will get one of the most promising teenagers in South America for comparatively little. Regarding Polo in Italy, I would be surprised if he plays consistently in Serie A within the next 18 months. The level of the Peruvian league and indeed the style of play is so different to Italy, that I would imagine that it would be more beneficial to Polo and Genoa that he contines his development for a season or two in South America or perhaps on loan to a Portuguese club. The boy has a lot of obvious good attributes but frankly I don't think he's ready for that level yet. A few years at Celtic may have been ideal-developing his physicality, providing him with the platform of European football every year to grow as a footballer.
There are numerous players whom I think would be successes at Celtic, but who play in positions that we have lots of cover. Ivan Pillud at Racing is a very good player (earmarked as Argentina's successor to Zanetti by their former manager Batista), but we have Matthews, Juárez, Lustig, Matthews and Cha at right back already.
Likewise, I genuinely believe that Egidio Arevalo Rios is the best destructive midfielder in the world. We wrote about him in the Uruguay Scouting Report (with an accompanying video), so there is no great need to repeat what was written. He is a remarkable player, one of the key players in this excellent Uruguay team and could have been bought for less than £1.5m within the last 18 months. However, Celtic have Kayal, Wanyama, Brown, Ki and Ledley who are capable in centre midfield-none as good as Arevalo Rios in my opinion, but regardless this position isn't a priority.
Lastly, Pablo Zeballos of Olimpia and Paraguay is an exceptional finisher with very good movement and anticipation. He is clearly the outstanding player of Paraguayan domestic football. He was chosen ahead of Oscar Cardozo and Lucas Barrios in the Paraguay team for the Copa America final, yet he still plays in Paraguay and I assume could be available for comparatively little. For the record I don't think he is accomplished as either Barrios or Cardozo, but he is definitely a forward that Celtic should be aware of and be monitoring. However his role is not so dissimilar to that of Hooper, Stokes or Bangura, so at his time he isn't really a necessity.
The size of our squad is such that it is probably more of a priority to be offloading fringe players. If we did so, it could free up a huge amount of wages. The interesting thing will be to observe in which regions Celtic choose to reinvest this money when recruiting new signings. Our recruitment policy will be hugely significant in whether Celtic continue to underperform in European competition or whether we can return to the level that we should be at, based upon the size of our club and our significant wage expenditure.