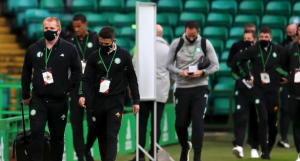 By Thomas Hanlon
After allowing a couple of days to pass from the wreckage of Sunday and ultimately this season I wanted to think about what do I want to see realistically from Celtic next season.
A good point to start would be to actually see them next year and God Willing I'll be back in my seat (my 40th is in October and that would be a great birthday present).
I feel I must cover how we got here and I decided to listen to a podcast that Harry Brady and Paul from By The Min Celtic did with Peter Lawwell. https://www.youtube.com/watch?v=Tnw6GNz4x3w
It's from May 2018 and in the glow of the Double Treble and I chose this point because I see it as peak of our recent success.
We had qualified in two successive seasons for the Champions League, dominated domestically and had record turnover.
The podcast is interesting (as always of course) because Peter makes a number of forward thinking points regarding European Football.
He said that in 2021 there would be a restructure of the Europa League and that this was a positive for Scottish Football as there was a greater chance of involvement for our clubs.
The Uefa Conference League is proof of that along with the guarantee of Group stage football in some form for this seasons Scottish Cup Winners. Access to group stage football would be potentially transformative for some of our clubs.
He also speaks about the potential of a "left field" breakaway of European Super Clubs.
In this part of the podcast he uses the word "relevant" and emphasises how important it is for Celtic to be relevant in the context of European Football.
It is that that thought which makes the last two years so infuriating.
I wrote an article for the site in the autumn of 2019 (after the CL exit to Cluj) and said that domestic success should not be the pinnacle for us as a club.
I had always felt that winning the Championship is a feat to be celebrated in of itself and the quest for the "10" always felt more about rubbing Rangers fans faces in it than doing for our own sakes.
A series of parochial decisions and a lack of forward planning have taken us to this point.
Communication between the club and fans is poor (despite the laudable efforts of the Supporters Liaison Officer) and I hope that Hanlon's Razor is true (Never attribute to malice that which is adequately explained by stupidity) as to believe that the club's silence this season is intentional which lead me to think that they are motivated by spite.
I don't believe that to be the case rather that so many things have gone wrong that they are scared to make the next wrong move (to use a footballing analogy see when Jonjoe Kenny receives a pass and thinks about his next move).
Results can't be guaranteed, performances can't be guaranteed but I think fostering a good relationship with the fans is something that should be achievable. There are obvious caveats here because no amount of good will can cover up for poor performance, though I do firmly believe that if there was better standard of communication and engagement than present, we would not be seeing so much vitriol with a growing number of adherents to a "scorched earth policy"
I would draw your attention to Motherwell's excellent Youtube channel. They regularly produce short films that (like a good documentary) take a subject or subjects and inform and also humanise individuals involved.
An example of this is their David Turnbull documentary
https://www.youtube.com/watch?v=fJdjqpBWsIo
That is an organisation that does not have our resources or reach but is producing something far better than what we have.
Much is made of the rebuild on the park, but the club needs to rebuild the relationship with the fans.
It is too easy and indeed lazy to characterize Celtic supporters as spoiled by success. Yes, there are situations where that may be true (an eagerness to get on certain players backs at the games) but mostly football fans, as has been demonstrated by the protests at the failed European Super League clubs don't simply want a transactional relationship with the club that they support.
Communication should not be limited to promotion for merchandise. These things do have a place, however naïve as it may seem I simply wish that the club could demonstrate that they are pulling in the same direction as the support.
On the park next season, I would settle for an improvement in performances and evidence of a coherent strategy.
Recruitment is key and I cannot be alone in asking that our business be done as quickly as possible and without the need for "Celtic Transfer Sagas". Surely that is not too much to ask?
I think back to the summer of 1997 where with a new coach and structure we recruited Gould, Mahe, Burley, Jackson, Blinker and Larsson. We would later add Rieper, Lambert and Brattback.
This was all done with a new coach and new Structure, with Jock Brown as General Manager.
That demonstrates that large-scale turnarounds of a squad can be done but we hope that the groundwork has been done at some level at least.
It is one of the reasons that I think we should concentrate on British based players. This is not because of Brexit as you may imagine but is due to the current circumstances we are all living in.
Consider the cases of Barkas and Ajeti. It is generally accepted that they have underperformed but I believe that being a young person in a new environment without the opportunity to forge bonds with new workmates or being able to create social structures in your home must have had a detrimental effect.
Look at David Turnbull, obvious talent aside; I would imagine his home life has not changed too much.
Relocation is key in any move and in a pandemic another layer of complexity is added.
I think by concentrating on the British market (in the short term at least) we can avoid some of the mistakes from this season.
In closing, I look again at our 97/98 season, where one team stopped the other doing "10 in a row". I believe if we have the right individual in place and with the correct structure to facilitate improvement in the short, medium & long term AND if we as a support can show patience (a 23 point gap, as I type, cannot be viewed as a blip) and understanding to a new manager then I believe we can move forward.