This site is fairly quiet now that we are in the close season so I thought it would be an ideal time to recall some old Celtic games from the past. In view of this here are my ten favourite Celtic games. Some of them are obvious whilst others have a more personal aspect. It should be noted that I've left the 4-2 game from 1979 out as that one is too obvious.
1974 Celtic 5-0 Hibernian
I remember this game fondly as I didn't think I would get to go. My dad was late home from work that day and I'd given up hope and gone to the Elder Park to play football with pals. The old Bhoy then turned up late in the car and I had to climb five foot spiky railings to get out the park. We eventually made it in time and it was to be well worth it. This was still Jock Stein's Celtic. Attack minded, full of flair, excitement and enterprise. When Kenny Dalglish plays a supporting role you know you have a team. Dixie Deans got a hat trick with Jimmy Johnstone having one of those days when he was untouchable. Seven days later Dixie scored another treble against the Hi-bees as Celtic ran out 6-3 winners. Great days.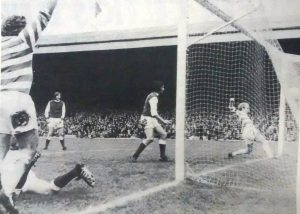 1978 Celtic 3-1 Rangers
Rangers had won the treble just months previously and Celtic were underdogs going into this game. McNeill and Greig were only weeks in their respective managerial  posts and Celtic had injuries with Roddy MacDonald and Alfie Conn both out. 2-0 up at half time, the Celts lost their way in the second half as Rangers pulled a goal back and missed a penalty. A late Tom McAdam goal clinched the points and this win laid a marker for the rest of the season. Rangers were nothing to be feared, as it transpired in the last game when 10 men won the league. I was in the main stand that day and it's worth recalling there was no segregation in those days where the fans were mixed. That was also the loudest I ever heard the Jungle. Even from the main stand the noise was deafening.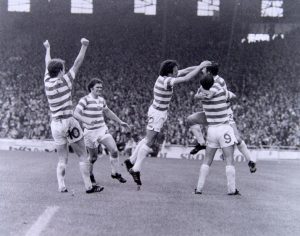 1980 St Mirren 2-3 Celtic
This Scottish Cup replay saw an incredible 27,000 turn up at the old Love Street with another 15,000 locked out when the gates shut. Tom McAdam was sent off early on and Celtic played out the best part of 120 minutes a man short and in the end Billy McNeill didn't even use a substitute, such was the fitness of the Celtic players. John Doyle, the villain of the 4-2 game, repaid his debt in full to both the Celtic players and supporters that night. He scored twice and was brought down for a penalty. That Celtic side had the great old Celtic attributes of fighting spirit and heart, but more than that; they had soul.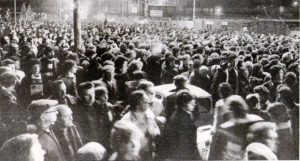 1985 Celtic 2-1 Dundee United
Cup final day looked a wash out with 20 minutes remaining. United were worthy of their 1-0 lead and Celtic were visibly toiling and devoid of ideas. Then Davie Hay made the finest tactical change I've ever witnessed by any Celtic manager. The fans went mad with frustration when Pierce O'Leary was brought on to replace the ever popular Paul McStay. However, O'Leary went in to defence to release Roy Aitken into midfield in a great tactical move. Aitken was a one man Hampden cyclone as he charged through the United midfield and inspired his team mates to greater efforts. Provan equalised with a glorious free kick before Aitken's cross allowed McGarvey to score a spectacular winner with a flying header. I've rarely witnessed such a turnaround in a Celtic side. Make no mistake, Roy Aitken won the cup that day. Feed the Bear !
1998 Celtic 2-0 St Johnstone
I've never experienced nerves in the build up to a game the way I did before this match. Unless you were around at that time you will never appreciate the apprehension and anxiety Celtic fans had to endure before this game. Happily the players performed and there has seldom been a better feeling than when Harald Brattbakk tucked away the second goal which we all knew was the clincher. The celebrations were long and joyous. It wasn't that we stopped 10 in a row. It was the fact we had our own one in a row.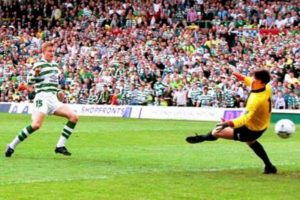 2003 Liverpool 0-2 Celtic
Even after all these years I still feel bitter that I never got a ticket for Anfield. I missed one domestic game that season, in Inverness, and still couldn't get a brief for Liverpool. For many years, Celtic fans of my generation had looked back on the European success of the Stein era with tremendous envy. Now here we were creating a new modern Celtic European history under Martin O'Neill. It was also special to win at Anfield. Visions of Keegan, Toshack and Hughes, of Beardsley, Barnes and Rush. And the satisfying sense of revenge after they had poached Kenny from us in 1977.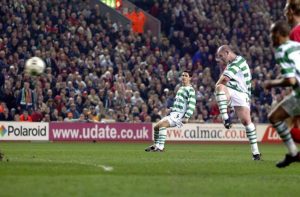 2007 Spartak Moscow 1-1 (5-4 on penalties)
Under normal circumstances I would have been a nervous wreck during this penalty shootout. However, the Holy Goalie was at his peak at this time and I was hugely confident the big man would come through. And he did that, in some style. This had been a cracker of game and the celebrations at the end will long be recalled especially when the entire squad leaped on Boruc, one after another, with the late Tommy Burns being last to do so and ending up the man on top.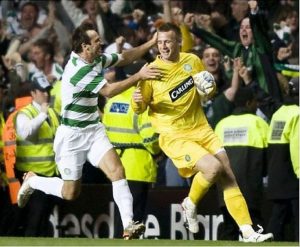 2011 Kilmarnock 3-3 Celtic
Before this game the Celtic Graves had held a memorial at Johnny Doyle's graveside in Kilmarnock. This was also our junior's first away game and as we sat disconsolate at half time with Celtic 3-0 down I lamented that Doyle's energy and enthusiasm were in short supply in this current Celtic team. As the history books show, the Celts rallied in the second half and showed the fighting spirit the team is famous for. We were not to know it that day but this was a huge turning point. We went from strength to strength whilst Rangers literally met their demise six months later. It may have been so different without that fine second half come back.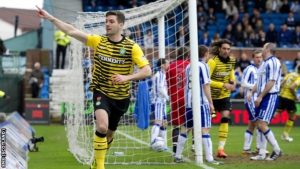 2012 Celtic 2-1 Barcelona
Twenty four hours before this match I was privileged to be in St Mary's church in the Calton to celebrate a Mass to commemorate the 125th anniversary of Celtic's formation. The next night we were due to play Barcelona – Messi, Iniesta, Xavi et al. The Barca directors showed great respect by attending the church service and the feeling was that Celtic wouldn't stand much of a chance against the mighty Spaniards. We rode our luck a wee bit at times but we defended brilliantly and won 2-1. Tony Watt's goal will long be remembered by those of us who were there. From St Mary's to Paradise, those were two great nights in hugely different ways, but equally unforgettable.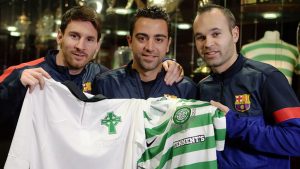 2018 Celtic 5-0 Rangers
Celtic had not won a league title against Rangers since the famous 4-2 game of 1979. The authorities tried everything to avoid a showdown with the big two but fate decided it should happen. Another comprehensive victory for the Celts saw the Rangers end empty and allow the Celtic party to begin in earnest. It was a day of contrasting emotions though. Joy that we had thumped our rivals 5-0 but disappointment that it should have been seven or eight. Make no mistake, we let them off lightly that day. Very lightly.