Time for the good, the bad, & the ugly from Sunday's Celtic vs St. Johnstone game. Non-penalty xG was 1.48 vs 0.58 on 15 vs 4 shots according to Wyscout's data and metrics. The differential of less than 1 was nearly 50% below recent performance levels at home vs St. Johnstone and about a coin flip to drop points via either a draw or defeat.
Here are the updated 6 and 19 league-only game rolling npxG differential charts, which start at the beginning of 2015-2016 season. The 19-game period still includes the last few games from last season, so it is poised to continue plummeting unless improvement occurs.
Good was again slim pickings given the widespread structural issues with selection and tactics, but I am going with Turnbull as my only good and MOTM. He played just 26 minutes but completed all 11 of his passes, won 4 of 7 duels, and touched the ball 3 times in the penalty area. While not captured in event data, my anecdotal perception was that his movement off the ball was also good and stood out relative to how poor the team has been overall in that regard- I could be mistaken.
Bad goes to the predictable mess that was our midfield. I thought when the lineup was announced that Christie was likely to be a 2nd striker with Edouard but turns out it was more of a 3-6-1. I would not label the central 4 as a box or a diamond- I think sh*t show is more appropriate. Here are McGregor and Brown's heatmaps followed by Christie and Rogic.
After having spent most of the past 16 months heavily lopsided left, we appear to have adjusted to be just as bad to the right?
Edouard was again relatively isolated and left dropping deep to try and get involved in the game. Here we see a map of the passes received by Edouard for the game.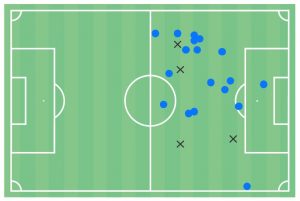 Why play 3 at the back if it is not to get a 2nd striker paired with Edouard and have an advanced presence? Why persist with Brown as the central "playmaker"?
Despite talk of Lennon having "tried everything," I do not believe he has tried something incredibly important- a single coherent team selection oriented for a coherent system. There are many issues and doing so probably would not "fix" everything, as having wingbacks who cannot cross bombing forward etc, would likely remain.
Here we have a line graph of St Johnstone's possession through the game- note how Celtic took control once we had McGregor/Christie/Rogic in central midfield, and that was with Rogic having had a particularly poor game, and playing during that stretch as a right-sided 8. St. Johnstone's possession bounced as we started lobbing long balls forward in desperation at the end of the game.
We spent just 12 minutes with what I would call a coherent setup, with 2 strikers playing in a 2-striker system, Elyounoussi as a #10 and a midfield behind them of Turnbull, McGregor, and Christie. How much training time do you think has been spent on any system without Brown as the focal point? Would it be a stretch to assume almost none? In desperation we threw you know what against a wall and expect magic to occur. In those 12 minutes we did have 3 shots and surrendered zero. Imagine if we practiced that setup?!?!
Ugly goes to the disparity in the stages of grief unfolding between the "board" and the support. The board appear to remain in denial, while much of the support is somewhere on the spectrum between anger, bargaining, depression, and acceptance.
I referenced over a month ago how severe the financial risks which had been taken given the managerial decisions being made. I am guessing they have placed a bet that they can sell the "big 4" players to bail them out, but I worry they have fundamentally misjudged the transfer market. If season ticket renewals for next season simply revert back to the average of the past 10-15 years, unless Champions League qualification were to occur, a normal wage structure would result in about a 25% cut from current levels.
This could occur as Rangers potentially qualify for Champions League next season while also monetizing some of their players, whose contracts are not running down. Such an injection of capital could enable them to right size their operating finances at a time when we are contracting.
Perhaps a share offering, or some other capital injection could buy the club some time to continue modernization. However, it may all be in vain if people who believe psychology and mentality are the main problems are in power.