Last Thursday saw the launch of my new book, Kenny of the Celtic.
A small gathering was held, fittingly, within Celtic Park to celebrate the occasion. It was a great opportunity to meet family and friends and also make accquaitance with some of the good people who assisted me when writing Kenny's story from his Celtic days. Many, many thanks to those who took the time and trouble to attend.
On the night some notable Celtic authors attended – Tom Campbell and Pat Woods (described as the Murdoch and Auld of the Celtic literaray world) together with Paul Dykes and Ian McCallum. In the main picture you can see the five of us photographed under the gaze of the great Jock Stein.
The book is now available to buy from the following link http://cqnbookstore.co.uk/shop.php?p=75
It will also be in sale in the Celtic shops so look out for it there.
After 18 months research and writing it's now out there. If any of you have any Celtic supporting Dads, Grandas or Uncles then this would make an ideal Christmas present for them.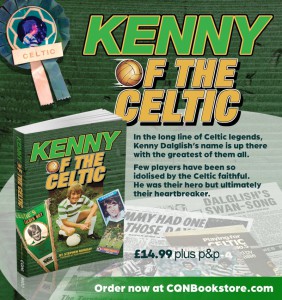 Hail Hail !
Stephen