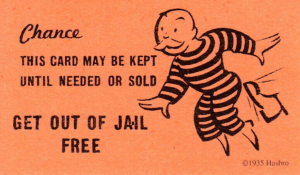 What a 24 hours or so!
As the dinnertime period approached last night we discovered that (as expected by many of us but as per, unexpected by our on the ball media) HMRC announced its intention to appeal the UTT.  Following on from the news that their £10m share issue to fund their trading beyond Christmas had failed, this led to a very humorous 30 minute or so laughing at SEVCO fans online but it was merely a distraction from our problems.  Then the first few texts came through about stories emanating from Poland…. naw it's wishful thinking.  Surely not, surely not again!  Of course we now know it was true and we have been handed a Champions League reprieve and for Peter Lawwell and colleagues?  Well they have been given a get of jail card.
I have not experienced such vitriol towards a Celtic board since the worst of the pre 1994 period, and specifically at Peter Lawwell as I did exiting Murrayfield on Wednesday evening.  Regular readers will know I am no fan of debt and support a prudent spending policy, but patently our squad was well short of competing even for 3rd place in the Champions League last season and it has not been strengthened.  Add to that a new manager with a different style and we need to move people in and out.
Regular readers will also know my sympathy for Lawwell in the managing of player movements.  It's difficult to get people into Scotland when it's a two horse race – nigh on impossible in a one horse race.  You therefore need European football to attract players and of course if Celtic offer a competitive league players (of the quality we need to enhance the squad) will want a guarantee of European football.  Yes it's a tough gig, however….  Many reading this will have worked in sales.  A tough market is no defence for poor figures.  Try harder would be any bosses mantra.  Peter Lawwell earns a generous salary and part of his remit is to get these players in and shift players out.  If that's a challenge, tough luck mate, that's what you get the big bucks for.
Online over the past few hours there has been a mix of reactions.  Whilst a few have been completely embarrassed by the whole saga and indignant that Celtic should even consider getting in this way, most have found it amusing to varying degrees.  Some just funny, others funny if a little embarrassing.  ALL have seen this as a second chance, a second chance for the club to bolster our funds, a second chance that guarantees European football, a second chance for the manager to get his tactics right but most importantly a second chance for Lawwell.
Celtic went into the Champions League without helping the manager with any new players.  This was perceived as a gamble by Lawwell, a gamble that failed.  A gamble that resulted in the vitriolic abuse hurled Lawwell's way Wednesday night.  The Legia errors have given Celtic a second chance.  The club must spend and sell to give Ronny Deila the players capable of playing the football he wants.  This second chance has given Lawwell a get out of jail card.  No good Monopoly player would squander that.  It would be criminal if Lawwell did.