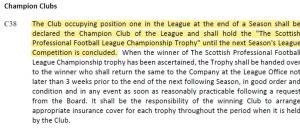 We are living in unprecedented times. There have been pandemics before, but not since the Spanish flu pandemic of a hundred years ago have we had a virus that's had such a worldwide impact. The consequence of which has been major sporting events, and specifically in our context Scottish football games, have been postponed and whilst in the immediate period personal and public health obviously takes precedence over how to resolve football fixtures, this pandemic will come to an end and normal life will be resumed and a decision will need to be made about what happens with the football season.
Current discussions seem to focus around the likelihood that the pandemic will be over by the middle of the summer, and that will free up the football authorities to recommence games. Who knows if this is overly optimistic however, based on this premise we can discuss how best to deal with the current football season and the football authorities can make some planning with alternative contingencies built in.
A decision does need to be made about the current season and who are champions. I have read from one or two commentators (actually just one commentator) and seen some online postings from Rangers fans and Hearts fans that this season should be voided. Voiding this season would then mean that, if we are alone in voiding the season, there could be no Scottish representatives in European competitions whenever that leagues start. Obviously, that's a nonstarter. Voiding the season would also cause difficulties, because trophies have already been awarded this season with the league cup winners Celtic. It would then seem odd that you have a season that is part active with trophies awarded, but part inactive. I have also seen Rangers fans posting about precedents having been set for voiding a season in the 1939/40 season. However, that season was voided after just five games. This season is almost complete, with Celtic just a handful of wins away from securing the title and Hearts starting to be cut adrift at the bottom.
Additionally, football fans and tv companies have paid to view a competitive sporting competition.  Do we repay player bonuses, tv contracts and season books?  To state that all of that money was spent on a league campaign where the trophies didn't count would be upsetting a precedent which has already happened.  We have seen already Scottish football make the decision, when one team cheated for years by spending taxpayers' money, that that you couldn't void seasons regardless of the valid reasons for doing so. If voiding the season for a variety of reasons is a nonstarter, then we have to look at options as to how we move forward.
The first option would be to call the season at this point. It's almost complete. It has gone on long enough to determine who the best and worst teams are and just a promotion and relegation. I can see the relegated clubs complaining about this and there being a challenge with just calling it, but that would have more merit than voiding it.
Another option may be, that we are close to the split when every team in the top flight will have played each other at least three times, to see if we could at least get those games played behind closed doors and call the season at the split where there might be more of an argument fairness has occurred.
One further option may be, if it was possible to get games played behind closed doors, to confirm that closed doors games would continue until it was not possible, and give clubs advanced notice that at whatever point it was declared no longer possible to play even closed doors games, the season would be called at that point. The challenge with all these is that closed doors games may not be possible.
The next set of options which are being discussed already in English Premiership would require UEFA support and FIFA support, but if it was something that happened across the continent it may be something that is possible, and that would be for the remaining unplayed fixtures to take place in the July to September period when governments are forecasting that the worst of the outbreak may be over. These ties may still be required to be played behind closed doors, but it would allow league campaigns to be completed by September. As mentioned, this proposal would require agreement from all European leagues and UEFA, and probably FIFA because of the impact it would have on FIFA competitions in the 2021 summer and possibly even through to 2022 World Cup.
In this model, it is envisaged that the games will be completed July to September with a very short break and then new seasons commencing perhaps in October. This would be accommodated by truncating in some circumstances, and abandoning in others, winter shutdowns. It would also require a movement of the UEFA Champions League and Europa League dates, and in order to accommodate all of this club football (which is the money making part of the international game) it would almost certainly need the abandonment of international football to fit in all the fixtures in the appropriate timetable.
Voiding a season is not an option. Trophies have already been awarded in this season, the bulk of games have already taken place and future European placings are required to move forward from whatever point we have paused life. We therefore need to assess how best to deal with the ending of the current campaign moving forward. The proposals in relation to restarting the season are obviously very dependent upon when normal life will start to come back and that is wholly dependent upon governments, the spread of this virus, immunity and the implementation of vaccines and therefore it may be necessary for footballing authorities to make decisions because of the unanswerable timetable aspects of all of these points.
One solution here in Scotland in calling the season as is but without the negativity could involve full league reconstruction or just a temporary blip. An alternative proposal could be to call the season, since Celtic is so far ahead in terms of goals and points, but to have no relegation throughout the Scottish leagues, promoting the two top teams from the Championship into the Premier League, and then trickling that way through the domestic competitions and having a 14 team top tier, perhaps just for a one-off season next season, having a slightly fairer split after everybody has played each other twice home and away and having three teams down and one team up at the end of that season. This would deal with the challenge of the likes of Hearts if the league was called prematurely, and also might mitigate some of the financial issues within our game because in the first new season with that setup, 14 of our bigger clubs would be playing each other to create additional revenue, plus there would be additional matches for those 14 bigger clubs to provide additional revenue. Moreover, we would be in the start of the new TV deal with Sky, and perhaps an amendment to that contract could be made to facilitate Sky having additional games to compensate them for the loss of games this season.
Imaginative thinking and leadership is going to be required to move things forward for football when life gets back to normal. Unfortunately, these things don't often come in our game, but they are going to be needed now.
Voiding the current season is not an option.  The league has set out in the rules that the executive board are the sole determinants of when the league finishes.  This is not the six years of the Second World War. We know the issues around this virus will come to an end in the medium to short term, and therefore the planning should be about making the current issue a blip that is overcome, and as I've set out, there are plenty of viable solutions to facilitate that.
Click to access SPFL%20Rules%20and%20Regulations%2022-Jul-19.pdf