Recently I came across a selection of old Celtic memorabilia at home which I thought I would share on the site.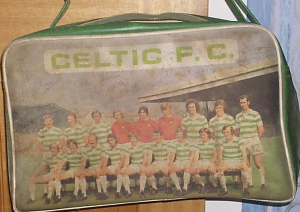 1. Celtic holdall circa 1975. One night my dad attended a sportsman's night in the mid 1970's. There were three prizes in the raffle and the bold yin won two of them and this was one of the prizes on the night. The boys' Adidas type of school bag was common place at this time and the difference with this was that the Celtic team group was imprinted on to the bag. The players are still easily identifiable, although the picture is now slightly faded and stained, and there are autographs that can still be made out such as Danny McGrain Joe McBride and Joe Colrain, all of whom I presume attended that night. Hard to believe it's still in one piece after being dragged along to the 50 pitches red ash parks every week for school team games. These Celtic bags were actually fairly commonplace and a few friends had them also but I honestly can't remember seeing a Rangers version. I wonder if such a thing existed ?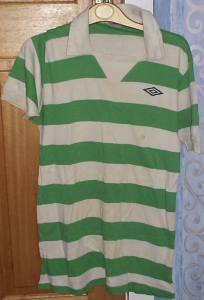 2. What was the second prize that night I hear you ask ? Well here it is. A genuine Celtic jersey (size medium) from the period (1975) which was presented to my Father by Sean Fallon who was Celtic caretaker manager at that time. My Dad maintains Sean told him this was a real strip worn by a Celtic player although we know not who. In my younger days I liked to imagine that it belonged to Kenny Dalglish or Danny McGrain but in those days there were no numbers on Celtic jerseys so it is hard to identify who may have had it. The Umbro label on the top suggests it is the real deal and is very similar to jerseys I have seen in the Celtic museum. Despite a couple of marks on the right hand side it still in good condition although the truth is I'm now scared to wash it in case it gets damaged in the washing machine.
3. Celtic scarf circa 1965. When I was younger I was desperate to own one of the classic 60's style scarves from the Lisbon era. A family friend was kind enough to donate this to me in my teenage years and I have kept it ever since. It only sees the light of day now for big games such as Cup finals and league deciders which seems appropriate. These scarves are few and far between these days and one wonders why the club don't market a modern version. I never understood the mentality of the scarf throwers. I would be distraught if I lost this and as Bill Shankly once said; 'That's somebody's life.'
4. Celtic league championship pennant 1979. I can recall the very day I bought this pennant. We played St Mirren early in the 79/80 season and I purchased it after saving some pocket money. This pennant commemorates the night of all nights when Celtic overcame the odds to win the league against Rangers by 4-2 with only 10 men. It's a very simple, understated item and which were commonly sold by street vendors around Celtic Park. No Celtic superstores in those days.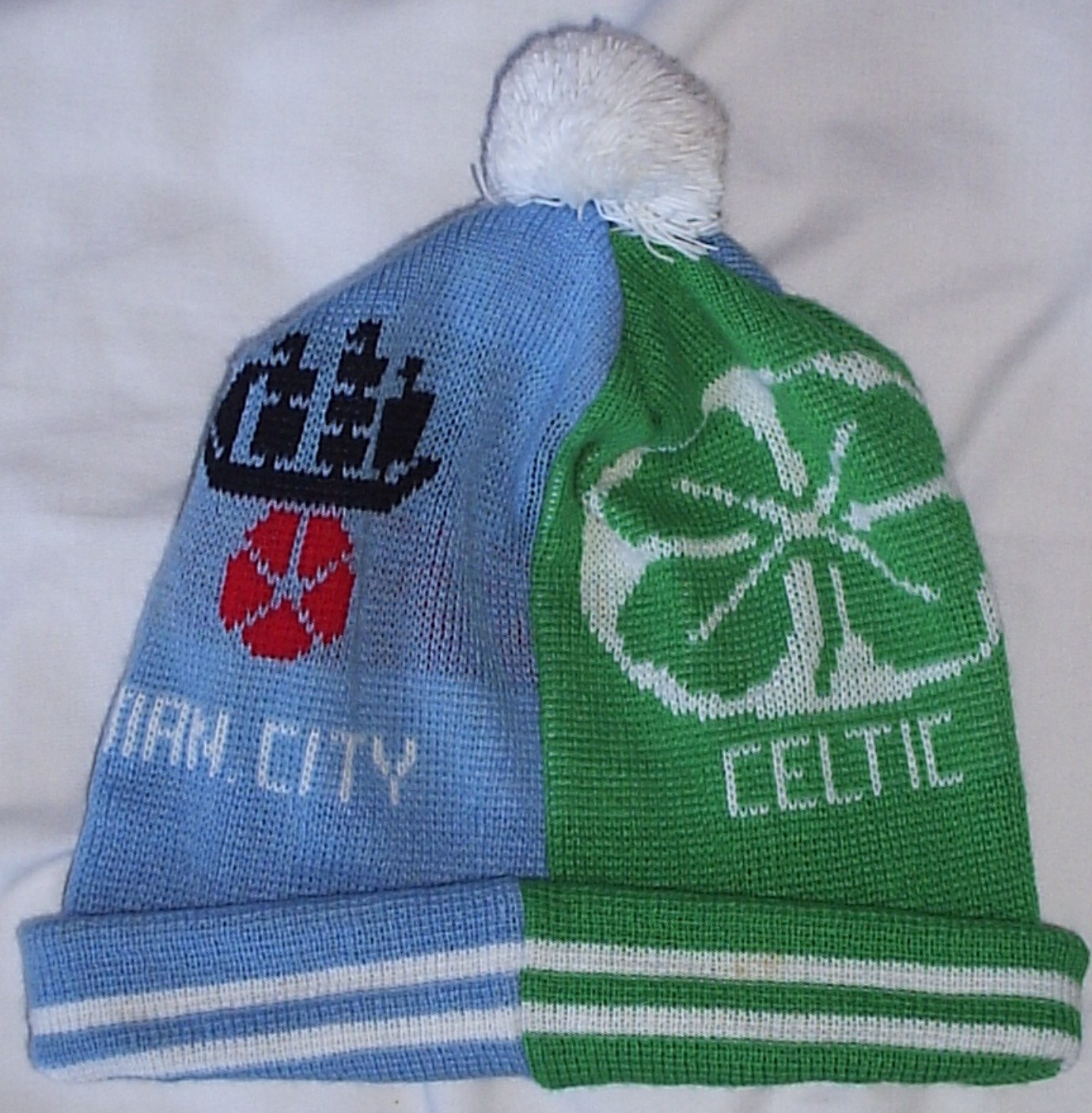 5. Who remembers the half and half hats from the mid 80's ? You know the Celtic/Liverpool kind of thing that were more common then. They came in two styles, ski hat and bobble hat. On  one of my frequent trips to Manchester, around 1986, I was tickled to see a street vendor selling this outside of Maine Road so I bought one and have had it ever since and I wouldn't imagine there are many of these still in existence. From memory I can remember seeing these hats with Celtic and Liverpool, Man Utd, Man City, Arsenal, Everton and Spurs. They were common in England also and it was fun to watch games on TV looking out for the wee glimpses of green on these hats in the crowd.
6. Celtic v Rangers programme 1979. This is a programme from the afore-mentioned '4-2 game'. I bought it on the night and when looking through it again I discovered that I had written on the middle pages, in huge letters – 10 men won the league. Which says it all really. They tell me this is a sought after programme on eBay these days.
7. Celtic jersey 2001. This is the most common item I found but it means a lot to me personally. As you can see it is inscribed with '2001 league champions' and is wonderful memory of the treble season under Martin O'Neill when Henrik Larsson (all bow) scored an incredible 53 goals. It also reminds of a wonderful summer holiday in Portugal that year in which this top was almost a second skin on me.
So that's it. I would imagine every Celtic fan out there has wee mementoes that mean a lot to them and we all have items that mean a great deal to us.