It's 40 years this weekend (October 25,1980 to be precise) when Celtic played a non-descript league game against Kilmarnock at Parkhead. It's not often a world title boxing contender appears at half time during a Celtic game but read on to find the full story.
In April 1979 Jim Watt became the WBC lightweight boxing champion when he defeated the Colombian, Alfredo Pitalua, in an emotion charged night in the old Kelvin Hall. The esteemed boxing commentator, Harry Carpenter, later described that fight in Glasgow as the greatest atmosphere he had ever experienced in all his years in boxing, which is quite an accolade.
Watt was enjoying something of an Indian summer as a boxer and was 31 when he won the title. He then proceeded to defend his belt against Roberto Vasquez, Charlie Nash and Howard Davis Junior before he was lined up to face the young American challenger, Sean O'Grady, in October 1980, again in the Kelvin Hall.
The O'Grady entourage were certainly a colourful bunch when they arrived in Glasgow. Hailing from Oklahoma and wearing their traditional 'cowboy' style hats, they were based in the MacDonald hotel in Giffnock and complained about the Scottish climate (then a mild 55 degrees) and the cold hotel rooms. This was big news in the Scots' press and the hotel manager was then obliged to keep the heating on in the O'Grady rooms all day at a temperature of 84 degrees in an attempt to pacify them.
In the week before the big fight Celtic were due to play Kilmarnock in a league game at Parkhead. There seemed no prospect of controversy at half time when O'Grady made a tentative, surprise appearance on the pitch in front of the spectators (no Paradise Windfall in those far off days). The Celtic directors had agreed to his on field appearance as a promotion for the forthcoming bout against Watt.
O'Grady was nicknamed 'The Bubblegum Bomber' by the press as he was constantly chewing gum and blowing bubbles. When stepping on to the turf he was given a polite reception from the crowd and was wearing a Stetson hat and denim jacket. He proceeded to move over to the Jungle side of Celtic Park, where the fans were looking on curiously, threw off his jacket to show a Celtic jersey underneath and the Jungle fans in return gave him a huge roar.
'One Sean O'Grady…there's only one Sean O'Graaaaady !!!'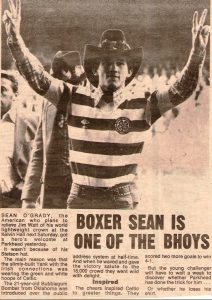 (Click to enlarge pic)
In those days there was no segregation in Celtic Park and a scuffle broke out in the lower stand between Celtic and Kilmarnock fans, who obviously took exception to the Celtic fans cheering of O'Grady and his choice of apparel.
Celtic chairman Desmond White was said to be mortified and was accused in the media of promoting O'Grady because of his Irish-Catholic sounding name and the obvious presumption that he hailed from Irish stock. White denied this strenuously and said that Celtic had invited O'Grady in good faith as a sporting gesture.
To their eternal shame there was a press element who had tried to stoke up a Catholic versus Protestant element in the fight. Jim Watt was a Rangers fan but a thoroughly decent guy and a fine champion who had the support of the entire country. He went on record as saying that his wife was a Catholic and his son was a Celtic fan as he attempted to play down any potential sectarian division.
The greatest irony was that it would later become knowledge that O'Grady was not remotely Irish or Catholic although this was only revealed by his manager after the fight and left a lot of people in the media looking rather foolish.
The fight between Watt and O'Grady was to be a most contentious one with the Scot winning after a controversial, but accidental, head butt on O'Grady caused a cut which stopped the fight in round 12. O'Grady had been doing well until that point although Watt's management had claimed that he also had sustained a head butt in the first round which had resulted in him swallowing blood from then on in.
This fight was contested on Friday October 31rst 1980 in the Kelvin Hall, 24 hours before the Rangers-Celtic game at Ibrox, and this raised fears of sectarian clashes although these fears were unfounded as the game passed off relatively incident free with few arrests. Celtic sadly went down 3-0 with a hugely disappointing performance.
And with that the O'Grady clan skulked off to Dublin complaining bitterly about their defeat and demanding a rematch. However there was to be a bitter sweet ending to this tale.
Jim Watt finally lost his title against Alexis Arguello in the Empire Pool, Wembley, in June 1981. Jim called it a day after that fight and went on to become a respected boxing pundit on various television channels. He is fondly remembered as one of Britain's finest ever boxing champions.
Sean O'Grady never did get his rematch but he was given a shot at the WBA lightweight title against Hilmer Kenty in Atlantic City in April 1981. Sean won the title on points after 15 rounds and in 1992 he was inducted into the World Boxing hall of fame.
And what about Celtic I hear you ask? The bold Celts recovered from that autumnal Ibrox debacle and won the league at Tannadice on a wonderful but cold, spring night in April 1981.
Everyone loves a happy ending.
Pic one shows a blooded O'Grady during the fight.
Pic two is a press article showing Sean in the hoops at Parkhead.