The Game Ep3 – Partizan Belgrade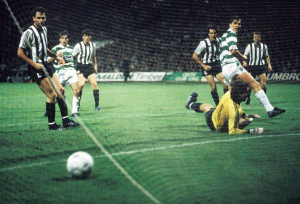 To this day, this is one of the most incredible games I have ever attended.  Yes I've been at the Barca game, the Invincibles Cup Final Game, victories and defeats at Ibrox but for utterly incredible drama few can match this game – Celtic 5, Partizan Belgrade 4.
A future Dundee Utd Manager, the dad of a future Celtic striker and a guy wearing trackie bottoms – this game had it all (all except a Celtic victory).
Antony and I are joined by Lawrence Donegan as he name drops his way through his memories of The Game.
Here's how the Celtic Wiki describes it:
This was one of the most remarkable games ever viewed at Parkhead with an absolutely disastrous ending for a brave Celtic team.
Scoring went as follows: 0-1, 1-1, 2-1, 2-2, 3-2, 3-3, 4-3, 5-3, 5-4.
With Celtic leading 5-3 and going through on aggregate with just two minutes left, Joe Miller lost the ball at the Partizan goal corner flag. A quick break down the left wing saw a cross come in and Scepovic headed it for goal. The despairing Bonner got a hand to out and only served to divert it past Paul Elliot who was on the goal line and would have cleared had Bonner not knocked it past him.
Celtic players and fans were devastated at time up and stood in stone silence as jubilant Partizan players and coaches danced for joy on the Parkhead turf.
Billy McNeill was heavily criticised afterwards for not making one substitution when Celtic were leading 5-3 with minutes to go which would have broken the game up and killed some time.
It is thought that Darius Dziekanowski could have laid on another cert, but went for a personal five. He was later lambasted in the changing room despite having scored four goals, and maybe others were more culpable for the defeat than Jacki.
Enjoy…
iTunes – https://itunes.apple.com/gb/podcast/celticunderground-celtic-football/id305526084?mt=2
Spotify – https://open.spotify.com/show/1DP71JuyXov72ehwiN1hcg
Stitcher – http://www.stitcher.com/podcast/harry-brady/the-celtic-underground?refid=stpr
RSS Feed – http://celticunderground.libsyn.com/rss
Audioboom – https://audioboom.com/channel/celticunderground
Spreaker – https://www.spreaker.com/user/harrybradycu
YouTube – https://www.youtube.com/user/HarryBradyCU
TuneIn – https://beta.tunein.com/radio/The-Celtic-Underground-p1012979/
Player FM – https://player.fm/series/celticundergroundthe-celtic-football-fan-podcast