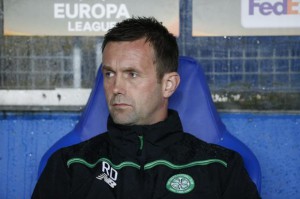 By Lachie Mor
Well that is it.  The Die is cast.  The media and, it would appear, a significant number of our own supporters have decided that Celtic Football Club need a new hand at the helm.
On Sportsound last night there was a forensic analysis of our current problems and without exception it was decided that Ronny Deila is, figuratively, a dead man walking when it comes to managing our club.
There was something quite distasteful about the openness of the conversation on our national broadcaster where a group including Kenny McIntyre, Tom English, Richard Wilson, and Joe Miller with some input from Chris McLaughlin discussed the sacking of a manager and speculated on who would take his place.
I have no doubt that such conversations are taking place throughout Tim world, and I admit that even I as a fully paid up member of the group who initially backed his appointment have begun to doubt whether or not the likeable Norwegian can turn this foundering ship around.  Even if he is to win the double is there any guarantee that Celtic are in a fit state to challenge for a place in the Champions League next season?
I will return to that topic later, but the purpose in this piece is to examine where we are and how we arrived at this sorry state of affairs.
Part of the problem lies with this perception that Champions League is the measuring stick for any Celtic manager. In this the chief coach at Celtic is behind the 8-ball before a ball is kicked. The idea that winning a national championship has no real merit other than a possible doorway to vast wealth  is seriously flawed, but to my mind it has influenced a generation of Celtic fans who have never really known hard times.
Today, 4th March, is the 22nd anniversary of the arrival of Fergus McCann to save our club from oblivion.  Those of us who recall that time know what real pain is in terms of football supporting, and for folk of my own generation the period between 1954 and 1964 when only 2 league cup wins lightened a lengthy period of darkness  remains a powerful if distant memory.
One of the reasons for my own personal loathing of the club which played out of Ibrox and its fans, was the overweening sense of entitlement which typified them and, it would appear, those of that fraternity of who attached themselves to Sevco.
The whole wearrapeepul mentality and the sense that winning was their birthright, rather than something to be earned and enjoyed with a measure of humility. There is a growing sense that some of our own fans are becoming infected by that same disease and it is not pleasant to recognise this.
Fergus McCann, I think, understood that winning was something to aspire to and he talked of building a Celtic who would compete, but not one which would always succeed. Since Fergus the game has changed rapidly in terms of economic realities and the money which is open to clubs in the big leagues of Europe through Television has seriously changed the environment in which Celtic have to operate and this has made it more difficult to compete at the very highest levels of the European game.
Most Tims acknowledge this, but even though it is true, what has been so disappointing about the last two years is that the teams which have put us to the sword in Europe have not been elite sides with loads of money. While I had some sympathy for Ronny's plight last season, this year's failures lie very much at the door of the present managerial regime.  At times we were unlucky in the European campaign in that every error was punished to the maximum, but he cannot escape the fact that they were errors – basic errors made by well paid professionals who did not perform to the standard required of a club with Celtic's ambitions.
There was a fair amount of Deila, Lawwell, Parks and Board beating on last night's programme and Joe Miller while examining the recruiting issues made the point that we had to stop selling our best players each year if we are to progress, but he failed to point out that these 'best players' were lured to Celtic on the promise that they would be sold if a suitable offer was received.  It is a catch 22 situation and there was no real analysis of how to get round this truth.
Tom English waxed lyrical about Aberdeen and their manager – ignoring the fact that nothing has yet been won this season. The night after Aberdeen won at Pittodrie he asked the question in his BBC column as to which Celtic player would get into the Aberdeen team.  The truth is that if the players from both clubs were at the peak of their form possibly only Adam Rooney would get into the Celtic team – and that for his goals – the reason for the present 'crisis' is not to do with how good Aberdeen are but how poorly Celtic are playing.  That brings us back to the present manager and his assistants.
Ronny is his own worst enemy at times in the openness with which he conducts his media conferences and to admit that the players are giving 100% but that he and his team are not getting 100% from them is effectively admitting that the fault lies at the door of the coaching team.
That being the case where does the club go from here?
It would appear looking in from the outside that the club is not about to change horses in mid-stream, but unless there is a dramatic change in form over the next few weeks the prospects are bleak indeed.
At the end of the programme last night they asked folk to text in their suggestions as to who should replace Ronny. Not one of those named – and for Tom English that would have included Derek McInnes (ye Gods) in any way raised my spirits as to a future without Deila.
None of them were currently employed at a big club – a club where the manager might have some understanding of the challenges facing the Celtic head coach.  Two of them were former Celtic managers presently employed as international coaches – both of whom, who for all their success were not greatly missed after they left. Their last seasons being turgid affairs with profound disappointment at the end.
The other names were all managers who have been sacked more than once and whose trophy haul even in their good years amounted to nothing.
So where do we go from here.  The notion that Peter Lawwell is deliberately sabotaging our footballing future to balance the books makes no sense whatsoever.  We have frightening evidence close to home of a club who thought that there was no need to balance the books in pursuit of success and that is not a road we wish to pursue no matter how attractive it might sound to bring in a 'big name' coach who will demand a huge transfer budget.
To my mind the priority is to win this league and hopefully the Scottish Cup and then drastically reduce the number of players who are taking a salary out of the club without making any contribution.  Focus on building a young team with a smaller more cohesive squad which will militate against any coach, whether it is Ronny Deila or someone else, 'tinkering'. I have yet to see any great team grow from a situation where the personnel changes every week.
If we win the League and the Champions League is still open to us, then we should make every effort to qualify but the least we should accept is a Europa League place, which I believe is the level we could compete at, and hopefully a better campaign than the last two.
Nothing is a given at this stage. If our team was suddenly to take a tumble to itself and begin to play as it can then the league will be won as the Cup should be.  After that some serious decisions have to be taken as to the future and some of those in Power at Paradise have to do the jobs they are paid for rather better than has been the case in recent seasons.
Am I still aboard the Deila bus?  Time will tell.