Time for the good, the bad, and the ugly from yesterday's Celtic at St. Mirren game. I had laid out benchmarks yesterday morning, and Celtic came up short. Non-penalty xG was 2.08 vs 0.95 on 16 vs 5 shots. That is well within the range to drop points with normal single game variance. For context, the xG differential for the Ferencvaros game was 1.41 vs 1.13 yesterday.
For the good, the statistics indicate players put forth good effort vs St. Mirren. As is common following a disappointing performance, fans typically fall back to confirmation bias and criticize the players who they already feel have not been playing well enough.
Edouard was a good example yesterday, and obviously the penalty attempt was extremely poor, but otherwise he was more involved in yesterday's game than Saturday's vs Ross County, and quite active/engaged. He even posted 0.88 npxG compared to 0.78 Saturday.
Specific goods go to Duffy and Ajer, who were very efficient and active. I will admit my own cognitive issue watching the game and how I felt about Duffy's performance- mostly fueled by his poor long passing, for which he was just 1 for 6. He did have 10 turnovers but just 2 in Celtic half. After reviewing the game and stats, my feelings were irrational and wrong- he had a dominant performance for what he is supposed to deliver. Ajer was similar, though his creativity and attacking output was stifled vs St Mirren's deep block.
Now to the bad: Elhamed's overall stats were surprisingly good, but his errors were what I will call "high leverage." He had multiple bad turnovers in dangerous locations. The other bad unfortunately goes to Brown. I am now at a point where I feel sorry for him, as it is clear he is fighting hard.
However, it just does not seem to be happening for him. His passing was rather good compared to his typical output, but he reverted to being ineffective positionally and defending. Here is a map of all his duels, where he won just 10 of 26. He won just 3 of 10 defensive duels. Does that map look like that of a centrally positioned DMF playing for a European-level side?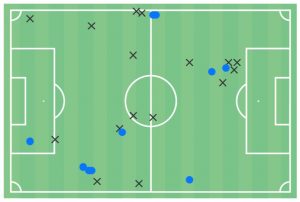 Next, we have his heatmap and the average pass map for the whole team for the game. Note how much he had the ball centrally in a position where a creative playmaker would be ideal. Despite 71% possession vs a deep block, Brown had zero xA, only 1 Key Pass and just 2 passes to the box. He completed 72 of 73 passes and progressed the ball decently in transition, but with almost no creativity, which should not be a surprise. Also note on the average pass map how Christie collapsed looking for the ball- Brown passed 20 times to McGregor and just 6 to Christie. The attack was lopsided left again, with Taylor's ineffectiveness and lack of creativity offsetting what was another good defensive performance.
Next let us look at a sequence of play which highlights the continued issues in defensive transition. Ajer moved to play a long kick from St Mirren's keeper in 1st image then in 2nd the St Mirren player I have put in a blue box. Brown is squared up with the attacking player and in good position. Brown loses the duel, is blown by and the next image is 4 seconds later. Note Ajer and Taylor's recovery vs where Brown is. The 2nd image is another 4 seconds later, and Brown has hustled back to defend in good position vs Erwin, who beats him to the inside for decent shot attempt, which was their 2nd highest xG attempt after the goal.
Now for the ugly, which is Lennon's continued inability to address and correct obvious issues. I get a lot of criticism about thinking I "know better" than professional football managers and I freely admit I generally do not.
However, I believe it was obvious that Ross County would press us, and I stated as much in advance of Saturday's game, yet Celtic seemed ill prepared. Yesterday's selection was clearly ill-suited vs a team playing a deep block, which again was not a surprise tactic- or should not have been. None of Duffy/Ajer/Elhamed/Brown/Taylor have shown reliable skills at being creative vs a low block. Klimala's shown some promise but it has been when game play was more open, and he had room to make runs. That made 6 of 10 outfield selections with one of the least creative players in the most important central role. Should it have been a surprise that Celtic would struggle to break down a low block defense given the selection?
I called for Lennon to be sacked after the Ferencvaros debacle following a months-long publicly documented case as to why doing what he ended up doing would represent gross negligence. My preference was that he would alter course, but he has double and tripled down.
As emotions and pressures intensify, some are already spewing repugnant personal attacks and I fear things may get worse. This may be a slow-motion car crash that could result in two deserved legends having much of the support turn against them. I still hope Lennon can alter course but what signals he will? Unfortunately, hope is a classic tool of self-deception.