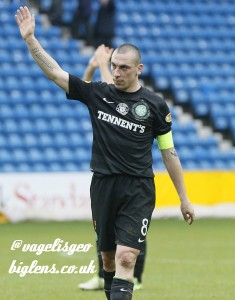 Contrast that with the opinion of many now on Brown's value, specifically our manager.  Brown was hampered all season by a niggling hip injury, yet as detailed above he was nursed through the campaign to ensure he was available for selection when the manger needed him most.  Qualification for the Champions League was a must have for the manager and Brown was nursed through to ensure his availability for these games.  His hip injury was restricting availability yet his surgery was delayed until after the Juve game.  What is also notable about the timing of that injury was that the date was set to ensure Brown made the cup final.  Testament to Lennon's faith in Brown and testament to Brown that he played through pain and discomfort to be there for the team.
By far the most dynamic player within our core midfield group although not specifically a box-to-box player, he has busyness about the park that appears to be infectious to his colleagues.  A few of his appearances were in lesser domestic fixtures when we were engaged in one of those predictable slow side to side midfield bore games, unable to break down 10 men behind the ball.  Brown's appearance would immediately create a directness lacking in his teammates.  His urgency transmitting to colleagues who suddenly seemed to move that yard faster, release the ball just that little bit sooner to get in behind opponents.
It is not just his urgency that transmits to his colleagues.  His presence in the team also gives the manager more options.  His ability from central to right midfield gives the manager flexibility on starting formation and facilitates the adoption of flexible 4-3-3, 4-3-2-1 formations, especially in Europe.  I always feel Ledley is more likely to have a positive impact on a game when Brown and Wanyama were anchoring the midfield.
I cannot comment for all (and I know some who are still "unconvinced") but I know I feel far more comfortable knowing that Brown is starting a game, and that is quite a remarkable turnaround.  In addition to the urgency and dynamism highlighted above, for me the two key elements that caused greatest frustration have been all but eliminated from his game – his distribution and his uncontrolled aggression.
As outlined above, in his first few seasons, it seemed a pass completion rate would be god if it hit 50% in a game, yet now, whether incisive passes through the middle or from out wide, he is far less profligate with procession.  Allied to this is a greater strength when on the ball and his ball retention is one of the best at the club.  For me however the greatest illustration of Brown's maturity came in the Juve game.
Just like his manager, Brown appears to be appears to be quite a lippy player on the park.  Nippy verbally and continually nipping at the heals of opponents when they are in procession, the problem was this nipping was uncontrolled and all too evident to officials.  In previous seasons, during the Juve game he'd have just booted one of them and got booked.  What was significant was that Brown became the elected players to give Buffon & Co a taste of their own medicine at the start of the second half.  He obviously stamped on toes, but did and got away with it.  It was a clever stamping.  Occurring at the start of the second half rather than after the 2nd time Hooper had been dragged 10 yards across the box perhaps says more about the teams immaturity at that level – but at least the captain stepped up to the plate and did it with subtlety was important.
Brown is still relatively young, yet an elder statesman of the side.  He has grown into the role of Celtic captain and from twitter appears to have a dry sense of humour.  That he also has traits to be found in 2 of the last Celtic managers perhaps explains their faith in him.  Faith that has now been rewarded and Brown's faith in Celtic too…
"I was told I could speak to Reading and Celtic. 
"If I had chosen Reading I would probably be fighting a relegation battle next season and then maybe disappearing into the Championship.
"In two years' time people would have been saying 'Remember that lad Scott Brown, whatever happened to him?'
Click here to follow Harry Brady on Twitter
Image kindly supplied by @vagelisgeo of biglens.co.uk