As a nine year old boy, I can still clearly recall the traditional Glasgow new year derby of January 1975.
Celtic were on top of the league and in fine form, with Rangers close on their tails, in an exciting league chase.
Celtic                    18 – 32
Rangers                18 – 30
Hibernian            18 – 26
Domestically, Celtic's form had been fine until this point and they had recently demolished a strong Dundee side by 6-0 at Dens Park, with Kenny Dalglish scoring an outstanding hat trick.
They were also driving towards their 10th consecutive Scottish league title and the fans had adopted the hit record of the time by 'Pilot' – It's magic you know…It's gonnae be ten in a row ! And with that, the Celts' fans were in optimistic mood for their trip to Glasgow's south side.
My Dad headed off on the short walk to Ibrox from our house in Govan, with assorted relations and friends but, at nine years old I was not deemed old enough to enjoy the experience, so I was left home to listen to the second half live on Radio Scotland on my 'tranny' (small battery operated radio).
Rangers took the lead in four minutes through a Derek Johnstone header but the bold Celts were unperturbed. Inspired by the wonderful Paul Wilson, Celtic cut through the Rangers' defence time after time and an equaliser looked certain.
However, Harry Hood missed from three yards and Kenny Dalglish missed from eight yards, as the Celtic fans behind the Celtic end goal looked on in mute disbelief. Stewart Kennedy, then a rookie goalkeeper, chose to have his finest game in the Rangers' goal, with a series of fine saves, as Celtic's frustration increased.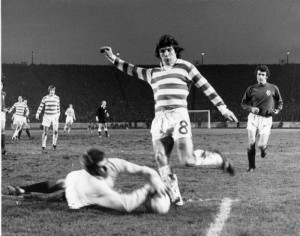 The game was in the balance until the 50th minute when Tommy McLean raced through the static Celtic defence to put Rangers two up. Back home, my faith in my Celtic heroes was undiminished. I still believed that the Bhoys would rally and save the day, but as the game wore on, listening to David Francey's dulcet tones, it began to dawn on me that the game was slipping away. In 74 minutes Derek Parlane made it 3-0, and as the rain came down, Celtic's league title juggernaut skidded off the tracks, on the increasingly heavy Ibrox turf.
Two of Celtic's most talented and experienced players, Jimmy Johnstone and George Connelly, had been relegated to the substitutes' bench that day and, in later years, there would be rumours of New Year indiscipline in which Jock Stein punished both men by dropping them. Looking back now, perhaps Jock punished the fans, rather than the players by taking this decision.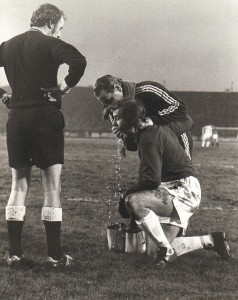 Sitting alone, in the solitude of my bedroom, after the final whistle, there was the boyhood realisation that my Celtic heroes where mere mortals after all. Sure, we had lost the odd cup final and European game, but our domestic dominance was supreme. Until this point.
In next day's Sunday Mail, wee McLean was the Rangers' hero, with a goal and two assists, and he was pictured celebrating with a huge cigar. In the months that followed, Pilot's hit tune, was heard less and less at Parkhead and Rangers succeeded in stopping the Celtic ten.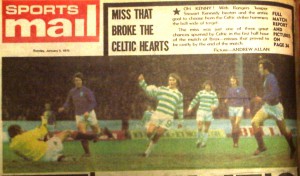 In football terms, it was akin to the fall of Rome. The Barbarians were now at the gates and the greatest spell ever seen in Scottish football history was now over. On January 4th, it will be 40 years since that fateful day at Ibrox.
And for many more years, I will always recall my boyhood torment.