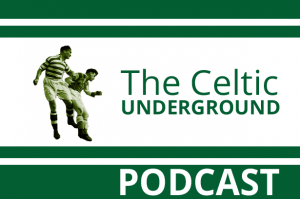 Mark Cooper joins Harry Brady this week to discuss the men who stood in front of last weeks keepers, the defenders.  Historically known as the sieve for its porous attributes Mark and Harry review the famous MoN back three before moving on to a general discussion of the full backs and centre halves in the more traditional back 4's which followed.
Mark's affection for Izzy and MacNamara are not hidden well, nor is his indifference to Paul Telfer.
Once again, this is a review of the 67 players who started in Champions League games for Celtic (prior to this season) with the aim of picking Celtic's best Champions League XI.  To vote you can tweet @HarrybradyCU, scroll down and comment on the site or email Harrybradycu@gmail.com.
This weeks contributors were @harrybradycu and @markocooper
Other ways to listen are:
iTunes HERE
Soundcloud HERE
Also
And
To help you choose, the defenders mentioned in the podcast with their starting record are detailed below;
Valgaeren 10
Balde 19
Mjallby 7
McNamara 10
Varga 12
Gray 1
M Wilson 10
Telfer 5
Caddis 1
Caldwell 18
Pressley 1
McManus 22
Naylor 18
O'Dea 3
Perrier-Doumbe 1
Kennedy 3
Hinkel 4
Loovens 2
Matthews 4
Izaguirre 6
K Wilson 8
Mulgrew 8
Lustig 7
Ambrose 6
The goals stats (48 goals) are as follows;
Sutton 6
Larsson 4
Thompson 3
K Miller 3
Samaras 3
L Miller 2
Hartson 2
JVoH 2
Nakamura 2
Jarosik 2
McDonald 2
McGeady 2
Robson 2
Hooper 2
Petrov 1
Valgaeren 1
Varga 1
Pearson 1
McManus 1
Donati 1
Maloney 1
Wanyama 1
Watt 1
Commons 1
OG 1
Thanks to @Hullbhoy for compiling this data.