Join us this week on a little journey through the years as we look at Celtic portrayed through the front covers of magazines and comics.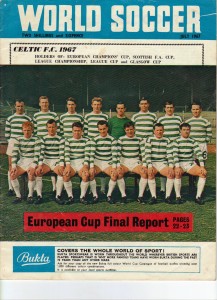 First up is World Soccer from July 1967 and this will bring tears to a glass eye. The summer of love and flower power is in full flow and as Hugh McIlvanney said, 'All roads in Europe lead to Parkhead.' I never tire of seeing that team group. The Lisbon Lions in their peak wearing the best football strip God ever invented. This magazine, Brian Glanville et al, is still going strong today although it still has an annoyingly English bias.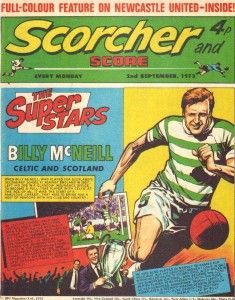 Secondly we see a Scorcher and Score from 1971. Scorcher ran from 1970
until 1974 before it was incorporated by Tiger. The Scorcher covers
always had excellent art work such as this and there are other covers
featuring Stein, McNeill and Johnstone to see in the weeks ahead.
Scorcher was comic strip based and it's two top stories were Nipper and
Bobby of the Blues. The Bobby in question played for Everpool (Everpool
– gettit ?).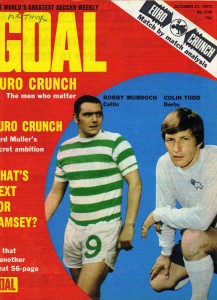 Third up is Goal from 1972. Goal was a serious football mag with a lot
of great reading content and decent coverage of the Scottish game. This
cover shows Bobby Murdoch and Colin Todd who were representing Celtic
and Derby respectively in the European Cup that season. Derby beat
Benfica but sadly Celts lost out to Ujpest Dosza. Look closely at the
photo of Bobby and you'll see he is wearing the number 9 shorts, a very
rare occurrence indeed. Goal was swallowed up by Shoot in 1974.
How many of you will recall Celtic's effort at producing a monthly
magazine in 1975 ? Not many I would think. This production only lasted
for four issues and was a fold out type of mag. When totally spread out
it had pictures of Celtic players measuring 3 feet by 2 feet and I'd
love to show them but I can't even begin to scan them. Buy a couple of
those and you wouldn't have to wallpaper the walls. This one shows
Dixie Deans scoring against Hearts.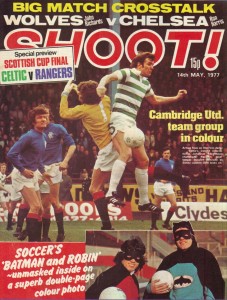 Next we see the old favourite, Shoot, from 1977. This is the cup final
issue from 1977 where Celtic happily beat Rangers 1-0. The cover shows
big Shuggie Edvaldsson battering Rangers goalie Stewart Kennedy. This
picture was taken at Ibrox and the Centenary stand can be seen in the
background which in those days was better known as the 'Cemetery stand'
given the lack of atmosphere in it. The Batman and Robin for anyone
curious is Toshack and Keegan of Liverpool.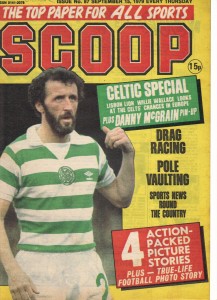 The Scoop comic from 1979 shows Danny McGrain on the front cover. Scoop
was a mainly football publication whose top story was 'Jon Stark, match
winner for hire'. Stark charged £1000 per game as he travelled the
world playing on a one off basis for a series of clubs. No transfer
windows in those days, wonder how Scoop would have got round that.
Scoop also had an original concept in the late 1970's where a computer
was fed data on regions of the UK. This resulted in areas of the
country being split for geographical purposes into teams such as
Glasgow Wanderers, Pool City, North London and Manchester Town. My
recollection is that Glasgow Wanderers usually won this imaginary
league.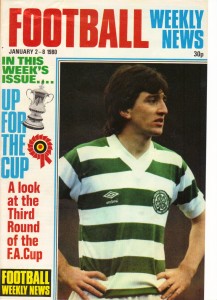 George McCluskey can be seen on the front of Football Weekly News. If you can remember that one you're a better man than me.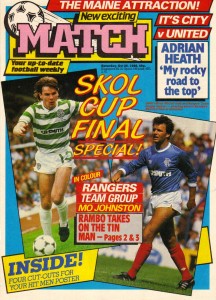 Last up is Match Weekly from 1986 which is still in publication today.
This issue focuses on the League cup final from 1986 between Celtic and
Rangers. Brian McClair can be seen alongside the late Davie Cooper.
Both men scored in the final but unfortunately the Bhoys lost out by
2-1 hindered by the refereeing of the infamous David Syme. Not that I'm
biased in any way.
Remember to click on the image to see a larger version.