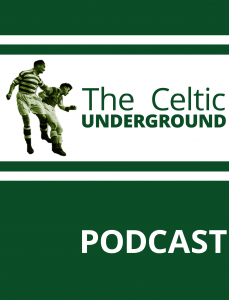 A Blend of Old and New
(Thanks to The Celtic Wiki for the text below)
League Position – 1st – Seventh League title in a row – a record

League Cup – Losing Finalists

Scottish Cup – Winners


Glasgow Cup – Not played this season

Drybrough Cup – Losing Finalists

European Cup – Semi Finalists

Season 1971–72 was a significant season as it really marked the start of a new chapter for the club, of players that had begun to appear the previous season but made their true marks this season. It also marked in truth the end of the Lisbon Lions era (but not the memory of that great team) with the departure of so many that had made up that team. The Main Stand had been substantially rebuilt and upgraded during the closed season and was formally opened by Jimmy McGrory on the 1st September 1971 with a game against South American Champions Nacional of Uruguay, Celtic running out 3-0 winners.
By this point Celtic had already lost the inaugural Drybrough Cup to Aberdeen. This was an interesting competition historically as it marked the first time that outside private sponsorship was seen in the professional game in Scotland. In the League Cup, Celtic qualified from the Group stage of Rangers, Morton and Ayr Utd. with resounding wins over Rangers home and away. The 'home' leg which was actually played at Ibrox because of the final work on the new Main Stand at Celtic Park, was significant in marking Kenny Dalglish's first first team goal. There would be many more. In the away game Celtic thoroughly demoralised a Rangers team that thought they had the beating of Celtic after an even first half. Quarter final and Semi final wins over Clydebank (marked by Brian McLaughlin's debut) and St Mirren followed to give a final at Hampden against a newly promoted and envigorated Partick Thistle. The result was not expected. With Billy McNeill absent, the Jags went 4-0 up by half time. Thistle were on fire and the 4-1 result and loss would mark a turn at Celtic and bring about arrivals and departures.
The days of the Lions were gone. The emerging talent was the Quality Street Gang and the prime examples were Kenny Dalglish, Lou Macari, Davie Hay, George Connelly and Danny McGrain. Out had gone John Clark – a crisp and reliant reader and thinker of the game who had become the sweeper – and Steve Chalmers at 35 years old. After the League Cup Final loss they would be followed by John Hughes and Willie Wallace to Crystal Palace and Tommy Gemmell in December with John Fallon going to Motherwell in 1972 and Jim Craig heading for South Africa at the end of the season. In came new buys Dixie Deans, regarded as a steal of a buy from Motherwell at £17,500, and for the perpetual blind-spot of goalkeeper came Denis Connaghan from St Mirren. But it was the young gang, recruited and developed through the lean years who Sir Robert Kelly had asked the fans to be patient for who took on the new mantle of Celtic and won the Double of League and Scottish Cup this season.
Jock Stein had the team playing a fluid system this season with as ever, everyone ready to both attack and defend so that players could switch and everyone to a greater or lesser extent could be a 'utility' player. No one exemplified this so much as Davie Hay and Dalglish. Both could play anywhere on the park, were elegant and confident on the ball, could pass accurately over distance to supply the killer ball and could shoot and score goals. Davie Hay had emerged earlier and would play anywhere in the team. Dalglish really became THE player this season, at home up front or supporting in a withdrawn midfield role. To be able to release an international full back of the stature of Tommy Gemmell meant that Jock Stein was confident in the resources that he had at Celtic Park. Jim Brogan continued to play well and was a veteran giving advice and support. Jim Craig's final season saw him make 28 first team starts and he would probably have continued to be picked for the first team had he chosen to stay. Furthering his career in dentistry, the warmer climate of South Africa and new challenges called, however. Jimmy Quinn had been at the club since he was 16 and had first been used as an out-and-out striker but the previous season had seen him turned into a fast overlapping defender and this was further developed this season. He did well. Danny McGrain looked like he was ready to step up and but for an unfortunate clash of heads and the resulting fractured skull would have become a stand out this season. He had to wait but he was clearly going to be the business.
The two supreme veterans that held it together were Billy McNeill and Bobby Murdoch. Cesar impressed so much this season that he won his Scotland place back under the new international manager Tommy Docherty. His cool head in the centre of defense and his power were rarely beaten and if he did have an off-day then the team suffered. Bobby Murdoch was as important as a playmaker as McNeill was as a defender. These two knitted the younger players into a unit and continued the Celtic tradition built up over seven League titles of what was required from a Celtic team and a Celtic player.
Worth mentioning too is Tommy Callaghan. He had probably his best ever season for the club in 1971-72 and ran his heart out as a water carrier and attacker as well as being a tireless midfield player. Never a fans favourite, he sometimes found himself the brunt of the terraces' ire but his performances this season were collosal and his hard work allowed the finesse of Dalglish, Macari, Hood, Lennox and Johnstone to shine.
In the goalkeeping stakes things were still as obscure as ever in the blind-spotted Stein's mind. Not since the glory days of Ronnie Simpson had he felt so uncertain about the feller in front of the onion bag. Evan Williams had started as first choice, but Gordon Marshall and Denis Connaghan were brought in to challenge, and rejected. A young keeper Tom Lally had been brought over from Sligo Rovers but had played more games for Morton on loan than at Celtic. Lally would leave the following season. Both Marshall and John Fallon left to fill spots at Aberdeen and Motherwell when those teams experienced injury crises. Added to these can be the youths that were picked up during the season. – Neil Carr from Maryhill Juniors; Stefan Gryzska from Whitehill Welfare; Leif Neilsen – an experienced Danish keeper who was in dispute with Morton and released by them on a free; and Tom Livingstone who had been a youth international keeper and was released when he lost his first team spot with Cumbernauld Utd. To these would be added more and it would remain a troublesome position for some time – till the Big Man made his final club signing.
This was a very interesting season – the blend of youth and vigour and experience; A Double Season; so nearly into another European Cup Final; players competing for positions and keen to show what they could do; a wealth of talent that had been developed by hard training who were fit, confident, competent and keen.
It would be interesting to see how the club would develop.
Enjoy…
iTunes – https://itunes.apple.com/gb/podcast/celticunderground-celtic-football/id305526084?mt=2
Spotify – https://open.spotify.com/show/1DP71JuyXov72ehwiN1hcg
Stitcher – http://www.stitcher.com/podcast/harry-brady/the-celtic-underground?refid=stpr
RSS Feed – http://celticunderground.libsyn.com/rss
Audioboom – https://audioboom.com/channel/celticunderground
Spreaker – https://www.spreaker.com/user/harrybradycu
YouTube – https://www.youtube.com/user/HarryBradyCU
TuneIn – https://tunein.com/podcasts/Football/CelticundergroundThe-Celtic-Football-Fan-Podcast-p1012979/
Player FM – https://player.fm/series/celticundergroundthe-celtic-football-fan-podcast