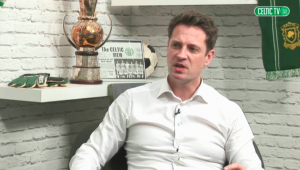 By Lachie Mor
'Any version of windows (sic) is going to have lots of great new things that people use and things that are tough'
Bill Gates
At another time, in a different climate I wrote about my love for the close season. The close season was a period when even football fans found alternative interests and pastimes. In the past you could put away the obsessions of the football season, concentrate on more or less frustrating things like meeting your spouse,  golf, gardening, taking the weans out to play, actually spending a Saturday afternoon without the stress of wondering how the Celts or whatever club you followed were getting on.
Players indeed would go on holiday, because there was no such thing as European qualification. You had either qualified to play in Europe by winning the Championship, the Cup or by virtue of a high finishing position in the league, or you hadn't.
There were the odd minor events like the summer sports 5-a-sides which senior clubs might take part in but they really didn't figure highly in most fans' thinking nor did they in any way inhibit one's enjoyment of the summer, the weather in Scotland managed that well enough
In those days clubs could carry out their recruitment and sale of players at any time in the season. The first really significant summer signing that I recall was Joe McBride, but other players like Bertie Auld, Willie Wallace, Tommy Callaghan, Evan Williams etc.. were brought in at different times during the season as the manager felt fit. That in itself was a feature of those days players were purchased in order to  fill a perceived need, not simply to fill  a jersey in a squad.
In fact I was discussing the other day the fact that down the decades people could mention successful Celtic teams like litanies – indeed fans of most clubs could recite the names of their men who had glory days. I am not sure that this is the case so much in the modern era – we might know the names of players who were in successful squads but the recitation of the names of heroes, particularly those who played in cup finals seems curiously old fashioned.
Now the close season seems non-existent. There are major international tournaments every 2 years but even in the off years the summer has been taken over by the demands of qualification for the now bloated European competitions, in which clubs from, it would appear as far Central Asia are competing for a place in the Cartel known as the Champions League, and the consolation prize of the Europa League.  In fact the absurdity of the Champions League is illustrated by the fact that more champions have been eliminated than will actually play in the competition while the big Leagues have places for teams who haven't won anything for years.
If  this was not enough the innovation known as the Transfer window has created even more excitement and interest than some folk can bear. It is now axiomatic that a  team which does not trade in the window – either buying or selling – is either complacent or incompetent or both. The idea that a club – even  a successful club – might go through the window without adding players is anathema to the fans and the media who report on such matters. It is now seen as a given that any coach who does not bring in new talent is not doing his job well or is being undermined by 'the Board', the Chief Executive, ineffective scouts or scurrilous agents and mendacious/acquisitive players.
In our own case we have almost come to the end of what has become a bi-annual circus where our best players are targets for bigger and wealthier clubs while we try to compete for affordable players who might improve our team but who will hopefully have some sell on value if their age profile allows.
Harry Brady has a saying which he uses to sum up our recruitment strategy or at least what appeared to be our strategy until this week – 'You have to kiss a lot of frogs before you get a prince'. Not every acquisition will turn out to  be a Virgil Van Dyke or a Victor Wanyama but over the years Celtic have until recently bought wisely and have had a fair share of success as a result. It is nonetheless true however that all of our recent coaches since and including Martin have bought a few turkeys although since he tended to shop in the more expensive markets than his successors his record appears to be better.
To say that any of these coaches have not received the backing of the Board is to my mind a fallacy.  The sheer number of players who have gone through Celtic Park in the last 20 years would make the mind boggle.  I know it is a mantra amongst sections of the fan base that all the bad signings were Peter Lawwell's fault while the undoubted stars were a result of the great insight of the coaches – would it were that simple. In every window we have bought players who appeared on the surface to be reasonably able professionals and I cannot believe that they were bought without the managers' approval. That some them shone and some disappeared from sight is absolutely down to the manager at the time.
The coach picks the team and I have yet to see a manager/coach who does not have players that he fancies and others who simply do not impress well enough to merit his favour. These are not necessarily bad players but whatever the dynamic of the training ground and the dressing room they do not make their mark and in time move on, often without really getting a chance to shine.
While I do not believe the received wisdom that our squad has been noticeably weakened in this window it would appear that we are not a happy camp. More than the Chief Executive has a part to play in this to my mind. At some point the Manager and those responsible to the manager for recruitment must also accept part of the blame for what has occurred. Certain players are part of the general picture, notably Dedryk Boyata and more recently Moussa, although my own view is that this should have been foreseen and both moved on weeks ago when we had time to replace them. It did not require those in authority to be clairvoyant in order to recognise what has transpired with these two players.
The fallout from this window may linger on for some time, but what they should all remember, the manager and the players is that they are well paid for what they do, they are lucky to be where they are and that they owe it to those who pay their wages to – to quote Bill Belichik, coach of the New England Patriots – do their job.
If they do then we will continue to dominate Scottish Football